Day 14 - Shore-Fire Fun at the Florida Aquarium
Today we waved goodbye to worries and explored the calming underwater world of the Florida Aquarium. "A whole day dedicated to one aquarium?" I hear you ask. But there's a reason why this attraction is rated among the best Aquariums in the whole United States, with amazing sights and sounds of not only Floridian animal habitats but also exhibits of exotic locations from around the globe.

The first thing to know is that the Aquarium has three main sections. We began at The Wetlands of Florida, located on the second floor, and more specifically, in an 80-foot-tall glass dome. Here, we wandered through trails in the freshwater land, under pretty pink Spoonbill birds, alongside playful otters and giant turtles in a cute moment that was somewhat interrupted by locking eyes with an alligator. But that just gave us another reason to move it, move it, along the trail to the Madagascar exhibit, which although lacking dance anthems from King Julien, more than made up for it with other adorable ring-tail lemur, geckos and chameleons.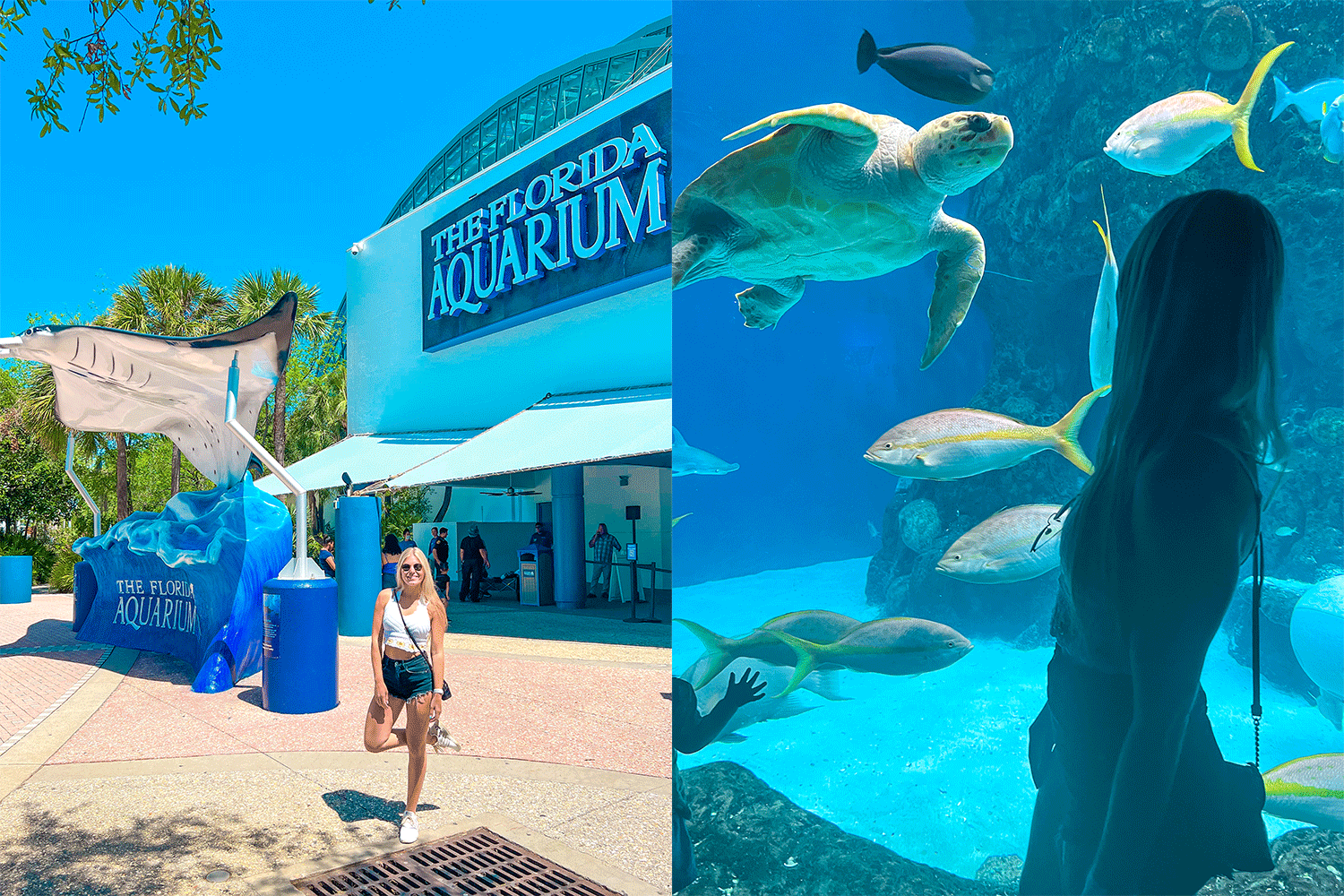 The second main section is the Coral Reef Exhibit; the Aquarium's biggest habitat, filled with over 500,000 gallons of water. The walkway began by taking us through coral tunnels and caves uncovering the secret lives of sand tiger sharks, reef fishes and moray eels. Next, we arrived at the Waves of Wonder exhibit, home to colourful clownfish, pacific octopus, spotted eagle rays and bonnethead sharks. But there's only so much my words can do justice to the epic panoramic views on display, so here's some more pictures…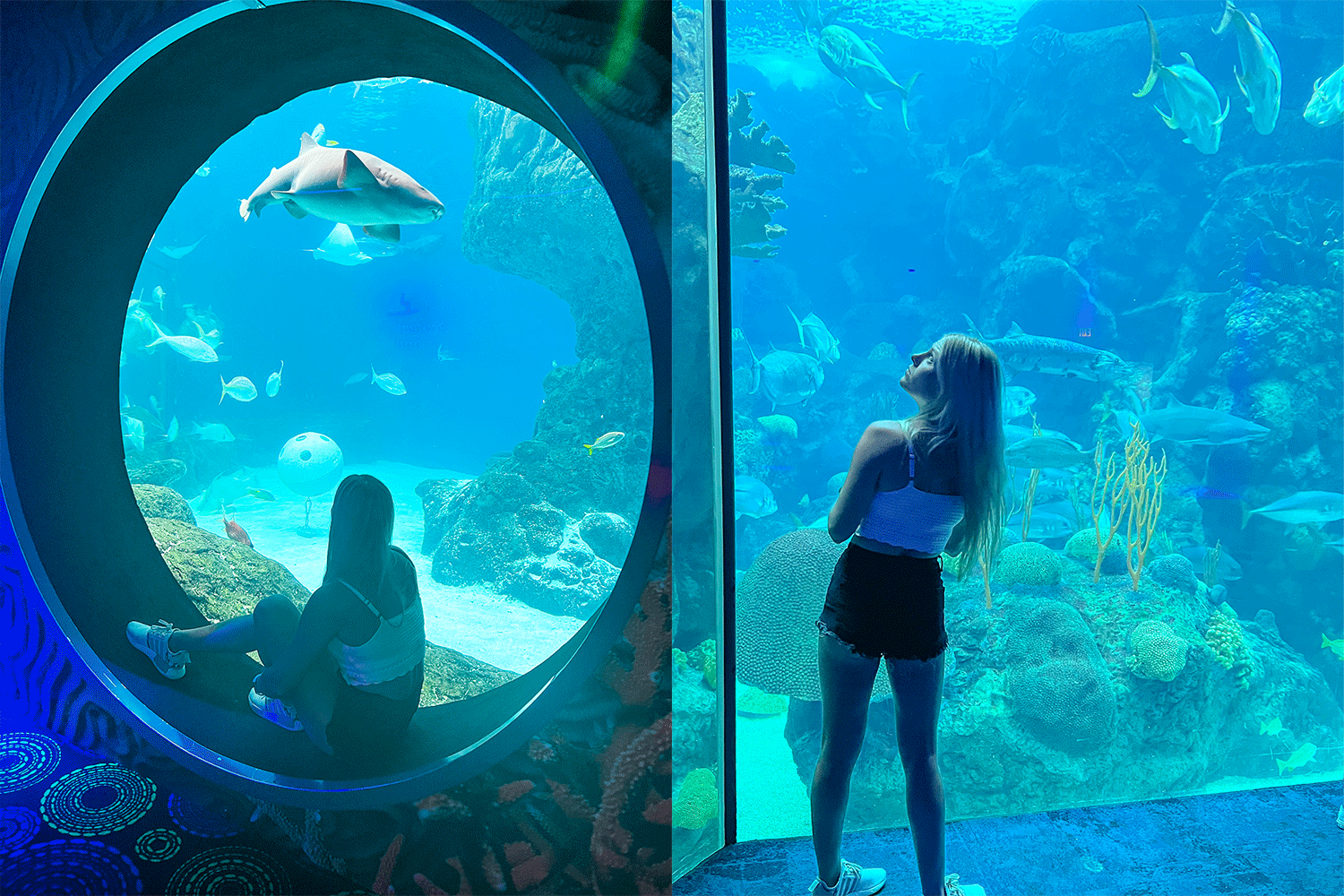 Finally, we headed down to Floor One. Outside, there's a rainforest-themed play area and splash pad - but apparently, it's just for kids, so I settled for an awesome 4K experience at the 4Ducks Theater. You may be used to 3D, but this attraction combines visual drama with built-in sensory effects that brought the film Ice Age to life like never before. Dovetailing this light-hearted message of environmentalism is the option to watch a Blue Planet short film, featuring the grandfather of conservation and British royalty, Sir David Attenborough himself.

And with our tour complete, we couldn't leave without saying goodbye to the moon jellies just inside the door with a quick high five that encapsulated the interactive delights of the day. So, if you're for some shore-fire fun outside of theme parks, look no further than the Florida Aquarium. But that's enough puns for one diary entry - sea you later!
For more content on my theme park tester journey, don't forget to follow me on social media.
Today's Top Tips
✅ Book the wild dolphin cruise, we missed it and we really regret it
✅ Experience both 4D Films at 4Ducks theatre for entertainment and education
✅ Give yourself extra time to park, the car park is located over a five-minute walk away
Today's Memorable Moments
✅ Getting to touch some moon jellyfish
✅ Seeing the giant green sea turtle
✅ The Coral Reef Exhibits' underwater walkway
---
---