Day 6 - Whatever Floats Your Boat at Boggy Creek
We were all set for a relaxing day, taking in the laid-back feel of Central Florida's Everglades.

Our expectations were correct, well, sort of...

We headed south, just 45 minutes south of bustling Orlando, where we were greeted by majestic Oak Trees draped in Air Plants, overlooking the stunning Lake Tohopekaliga, or Lake Toho as its affectionately known by the locals.

The relaxing day we pictured had come to beautiful fruition, a Floridian oasis tucked away from the glitz of the bigger parks. And just like that, we were ready to meet the captain of our US Coastguard inspected airboat.

Our captain explained that we had a VIP service, not to say other tours at Boggy Creek are not, but for us, this meant there was just us and of course the captain onboard. We glided through the trails of tall grass and wetlands, often at not-so relaxing speeds of up to 45 mph, gasping as we turned each corner, waiting to see what wildlife we would see next. We also sailed at a more leisurely pace through narrower areas, not accessible by other boats. This allowed us to ask our knowledgeable captain questions whilst capturing some amazing photos.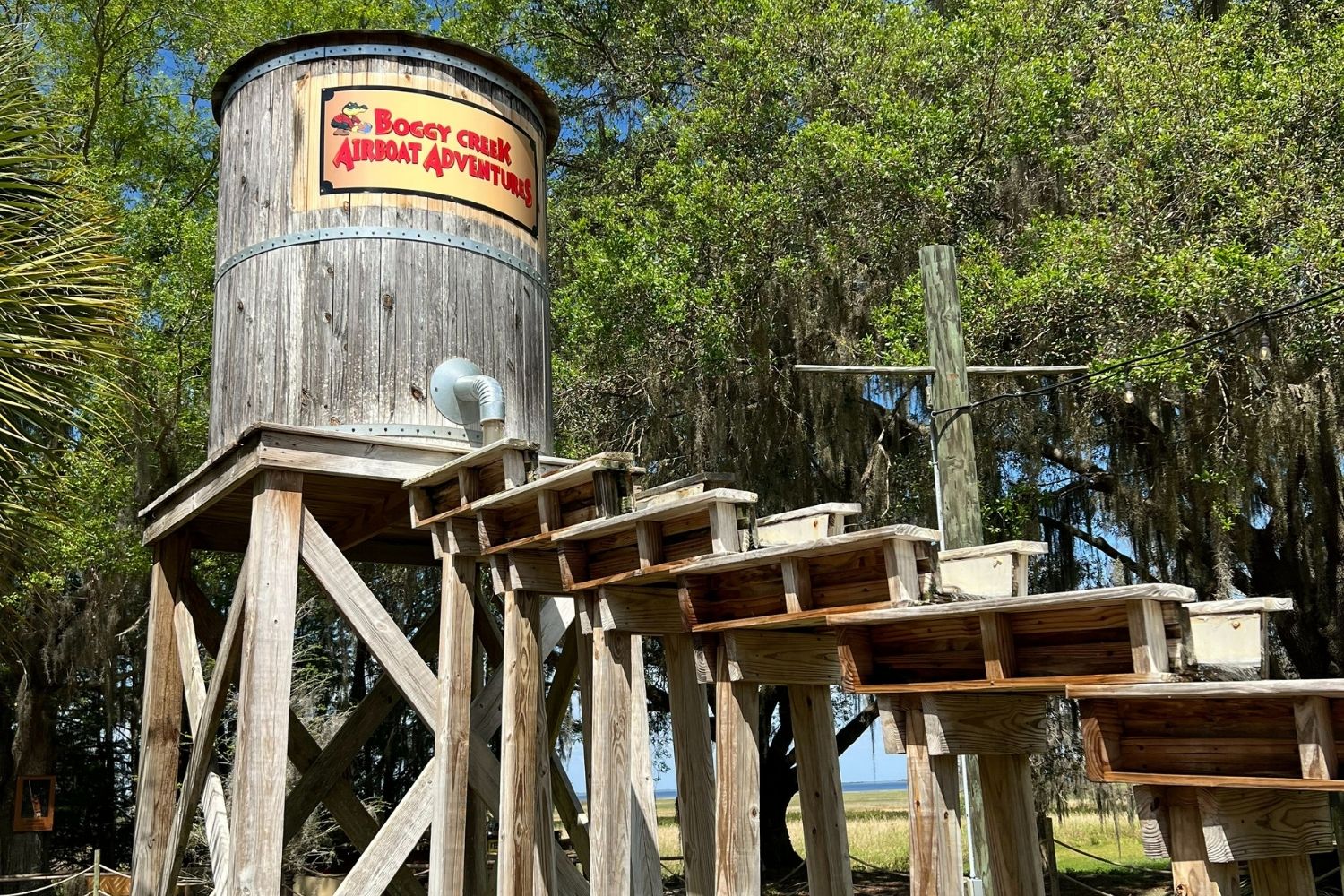 We spotted Bald Eagles, native Gators, and Turtles, and whilst we didn't see any cattle, our captain did say you will often see brave cattle grazing in the shallow marshes.

It was soon time to return to solid ground, and retreat to the more relaxing side of this park. Here, we enjoyed a delicious barbeque lunch, although we did skip the alligator bites this time.

After lunch, we did as the locals do, mining for jewels at the 70-foot mining trough where you get to keep what you find! This was followed by the exploration of the Native American Village, complete with towering chicken huts that cover genuine artifacts and hand-made creations of the Big Mountain Native American families, and tales of life in the swamp.

After an action-packed day, a caffeine and sugar fix from Dunkin Donuts was needed and thoroughly enjoyed, as I sat dipping my toes in my very own pool at our wonderful Solara villa!
For more content on my theme park tester journey, don't forget to follow me on social media.
Today's Top Tips
✅ Make sure you arrive 30 minutes before your tour allowing time for some traffic
✅ Book an early morning, or sunset airboat ride, if possible, as the wildlife tends to be on the move during these times
✅ The airboat can get chilly, so dress accordingly
Today's Memorable Moments
✅ The exhilaration of our private airboat ride
✅ The unforgettable fun at the mine
✅ The delicious food at the Boggy Creek BBQ
---
---