Day 7-9: Alexandria's Ultimate Guide to Universal Orlando Resort
Day 7 - Alexandria Declares Universal's Volcano Bay Orlando's Best Waterpark

Volcano Bay - 5 / 5 stars
This diary entry marks one week since I started my theme park tester journey. A week of airboats, train rides and rollercoasters that have quite literally flown by. But this particular day truly deserves a moment of pause and reflection, for we visited hands down the best waterpark in the whole of Orlando, Universal's Volcano Bay!

Its tropical getaway theming is so well done that Volcano Bay truly feels like its own island. But to be more precise, the park is built around a central volcano-like structure with lava-like waterslides, winding rivers, and wave pools that are true to the park's go-with-the-flow vibe, not least at the surrounding tiki bars and sun loungers.

We spent so much time just drifting around the Kopiko Wai winding river, blissfully lost in a trance of tropical trees, before floating into a cave called Star Gazer's Cavern, where fluorescent art lit up the darkness.

The Waturi Beach was also picture-perfect, with the wave pool lapping the shore beneath the giant volcano and its series of waterfalls that danced down onto the lagoon. So, if you're looking for the perfect photo spot, look no further…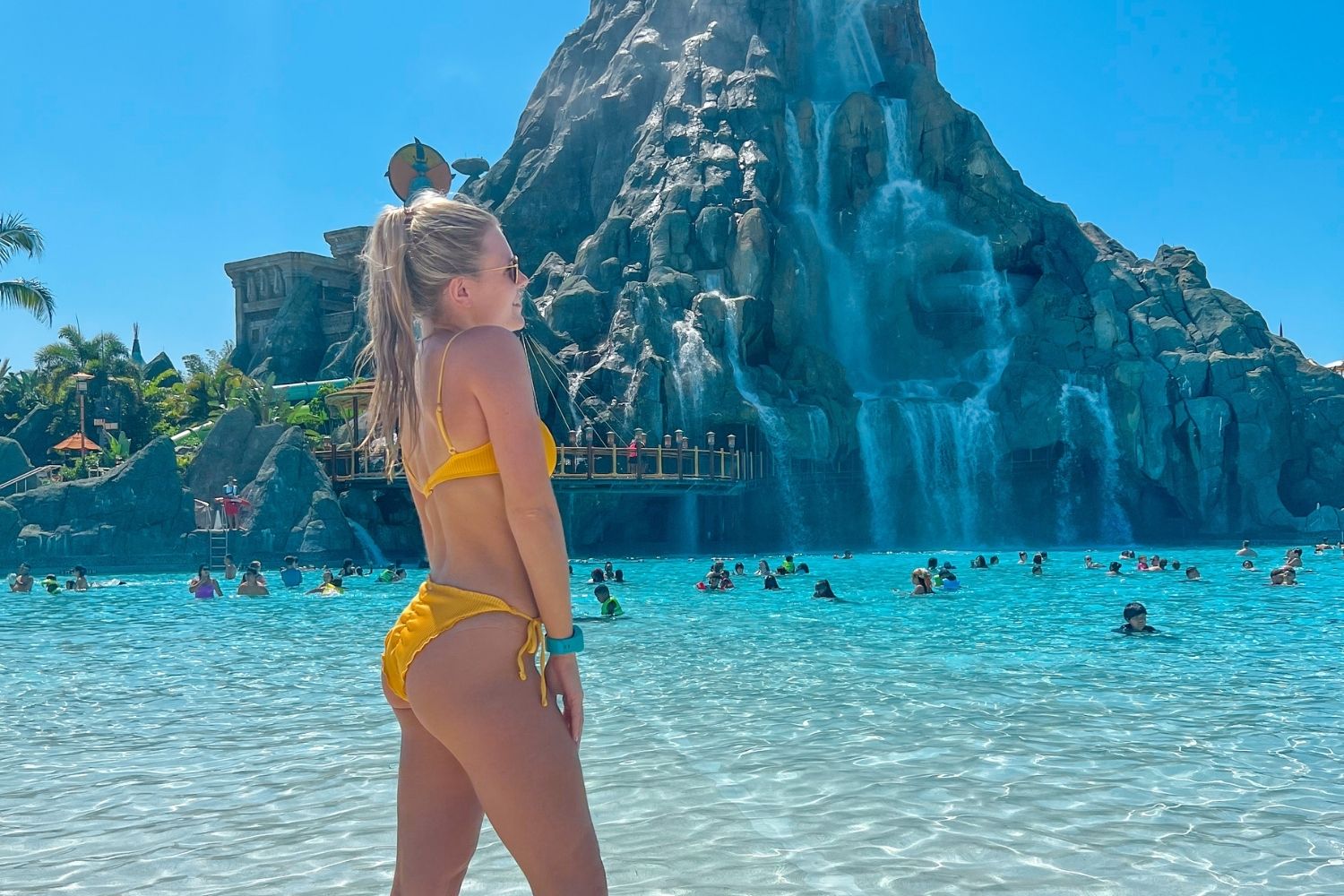 Its beach crystalises the key benefit of Universal's Volcano Bay over other theme parks; relaxation as part of the attraction. However, you have to try the Honu Ika Moana ride, a five-passenger raft that woke me up from my sunbathing slumber with a highspeed race through waterfalls.

We had also had so much fun literally just walking, as we wandered into interactive locations activated by our TapuTapu wristbands, leading us to the famous talking tiki head inside the Volcano, where you can actually have a real conversation – even with this Scottish girl's accent! And don't worry, you will get a TapuTapu wristband upon entry too.

Finally, we had some long-awaited food at Kohola Reef Restaurant under canopy cover. I'm delighted to say the flatbread and coconut fried chicken was unreal, but after Universal's Volcano Bay melts your heart, you really need the Waturi Fusion ice cream to cool off. And just like that, you too could have a five-star day!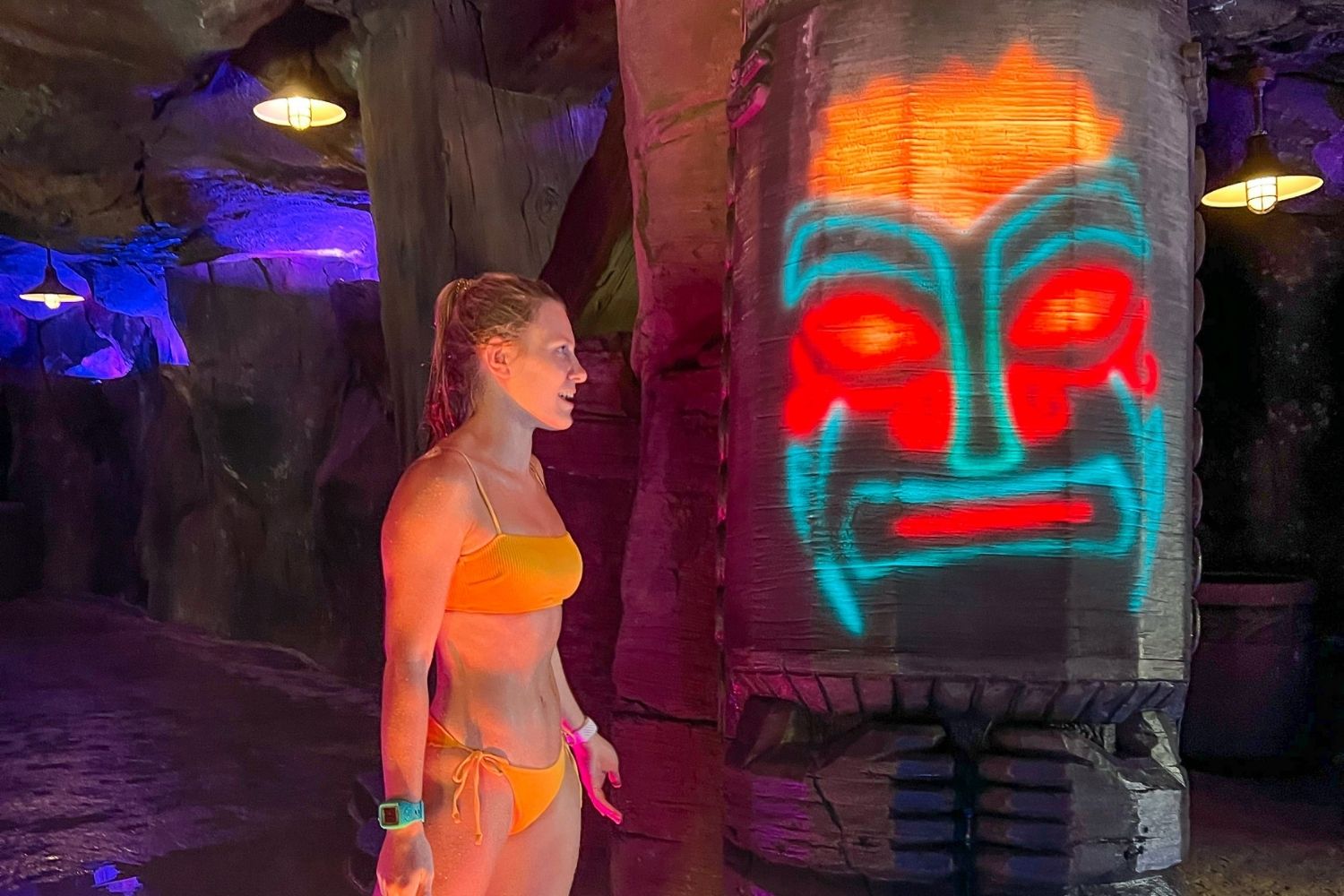 Day 7 Top Tips
✅ Tap in for the busy Krakatau ride first as it can have long wait times
✅ Remember to spend some time exploring the interactive features of the park
Day 7 Memorable Moments
✅ The talking tiki head inside the volcano
✅ Drifting through the lazy river
✅ The Honu Ika Moana ride
---
Day 8 – Alexandria Meets Harry Potter at Universal's Islands of Adventure
Day 8 started at the break of dawn, as being guests of a Universal hotel, we got a whole hour of early access to the Islands of Adventure.

At 8:15 sharp, we were in line for the apex predator of rides: Jurassic World VelociCoaster, ready to join a raptor hunt! Oh, and seeing Chris Pratt first thing in the morning wasn't a bad way to start the day either, as his pre-ride show is hilarious. However, you may want to skip breakfast before the VelociCoaster, as you reach high speeds of 70mph! In fact, the ride is so fast that I think it gives Universal's Hulk rollercoaster a run for its money.

Next, we got on our broomsticks and hurried over to Hagrid's Magical Creatures Motorbike Adventure. Here, we planned to fly deep into the Forbidden Forest, in one of Universal's most immersive experiences. We arrived at 8:50, still ten minutes before the park officially opened and the queue was still 2.5 hours long! So, we decided this ride could wait and instead headed to Hogwarts aboard Harry Potter and the Forbidden Journey. We entered through the famous castle gates and corridors of the school to iconic locations like Dumbledore's office before soaring above the grounds side-by-side with The Boy Who Lived himself, Harry Potter. This attraction delivers on its award-winning hype with state-of-the-art technology, but unfortunately, mum was feeling motion sickness afterwards (told you she should have skipped breakfast).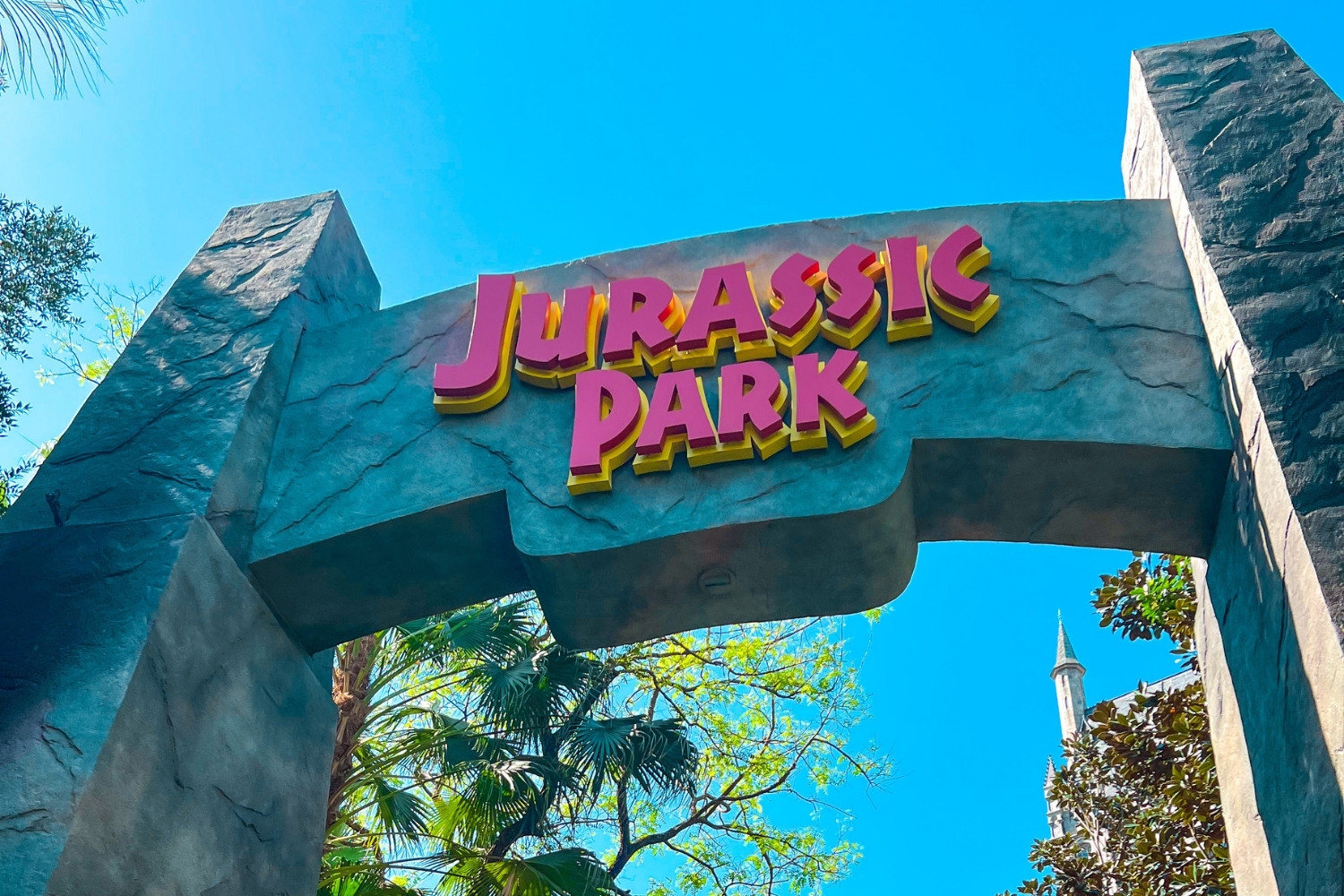 With mum in mind, we planned the rest of the day around stomach-friendly attractions. Highlights included Jurassic Park River Adventure, Dr Seuss' The Cat in the Hat and One Fish, Two Fish, Red Fish, Blue Fish. And after all that action, we were ready to cool off with a nice cold Butterbeer at Honey Dukes – my first ever Butterbeer in almost 15 years – and I'm pleased to report it was worth the wait!

Sufficiently refreshed, we hopped on the Hogwarts Express to Universal Studios to take on some classic attractions – ranging from Men in Black to E.T. to Minion Mayhem and The Bourne Stuntacular. And I'd like to shine a light on the latter, as the Stuntacular really surprised me. The style of the show was like nothing I'd ever seen before. The stunts promised to "blur the lines between stage and cinema" and succeeded, with chase scenes from the Bourne films – starring Matt Damon – blending into live performances of stage fights and acrobatics.

After ticking off all the rides of American movie franchises, we settled down for an all-American bacon cheeseburger and fries at Mel's Drive-In. Such retro diners are often imitated around the world, but for me, never bettered than in the states. And for dessert, we checked out the Mardi Gras festivities; a celebration of flavour and colour from around the world that ended our day in style! But keep on reading, for tomorrow we go all out on Universal's BIG thrill rides…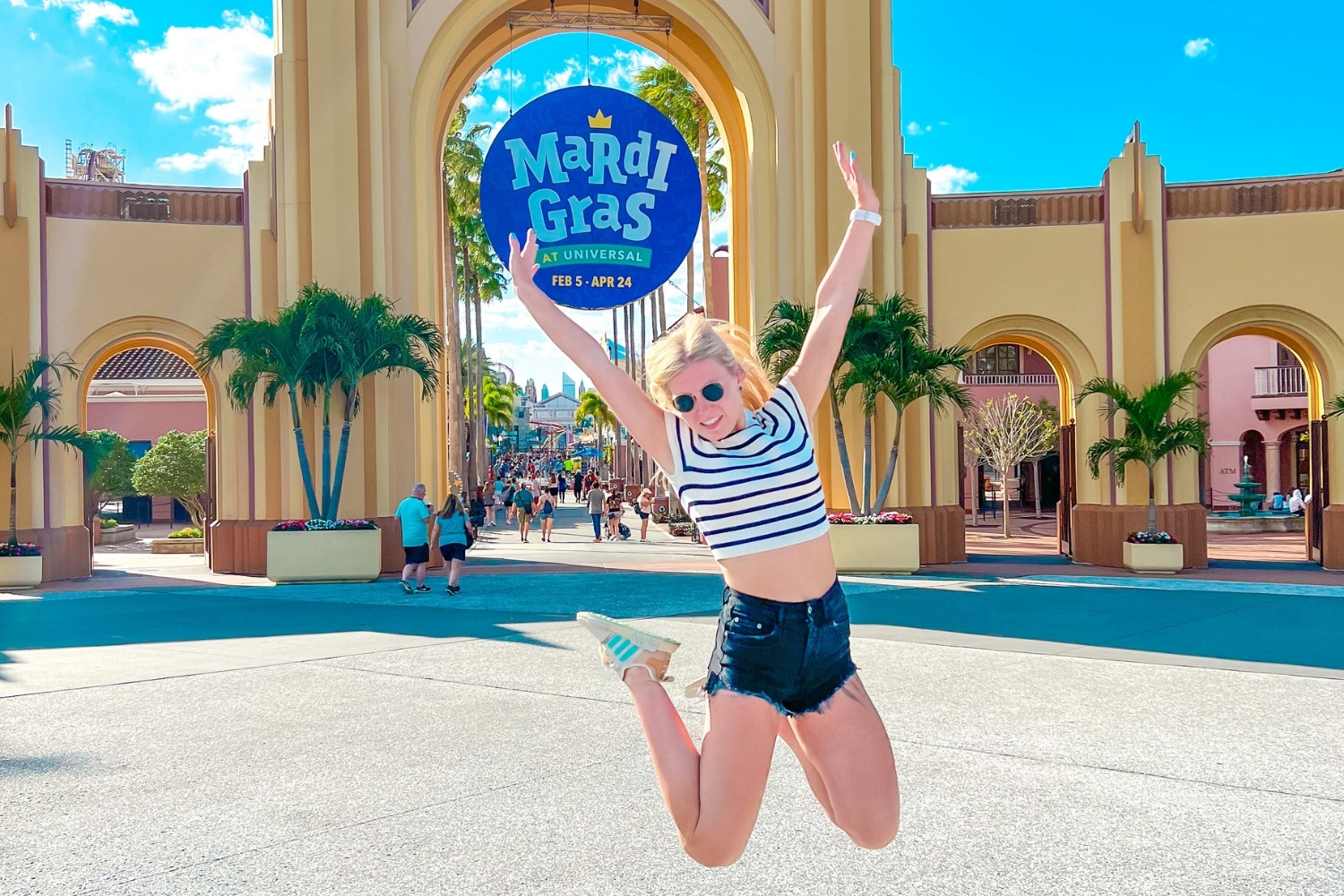 Day 8 Top Tips
✅ Make use of the early park access if you're a Universal Resort guest
✅ Utilise the mobile order and pick up service for a bite to eat
✅ Take a small enough bag that will fit in the free lockers and remember, some rides have mandatory lockers, and if your bag is too big, you'll need to pay for the larger ones
Day 8 Memorable Moments
✅ Riding the VelociCoaster
✅ Trying the Butterbeer drink
✅ Experiencing The Bourne Stuntacular
---
For my final day at Universal Orlando Resort, mum was out, and the mega coasters were in…

First up, was Rip Ride Rockit - and my first tip is to pick your music in time! I sadly missed my 30 seconds to sit down, lower the lap bar and pick a tune to scream to. But never mind, because as I shot into the clouds at 65mph, and we reached the first devilish drop, even a Bee Gees number wouldn't have matched my high notes.

I then headed back to Diagon Alley for Harry Potter and the Escape from Gringotts ride. As you enter, you will see a huge dragon sitting atop the roof, and if you're lucky, you might just catch him breathing fire! Inside, I encountered all my favourite Harry Potter characters – from Hermione to Bellatrix - as we journeyed deep underground and evaded the wrath of Voldermort. The magic was brought to life by motion-based 3D effects, that since opening in 2014. have made the ride a flagship attraction for the Wizarding World of Harry Potter. As you may have noticed by now, I've been a Harry Potter nerd for much longer than that, but Universal truly have delivered attractions for the ages here.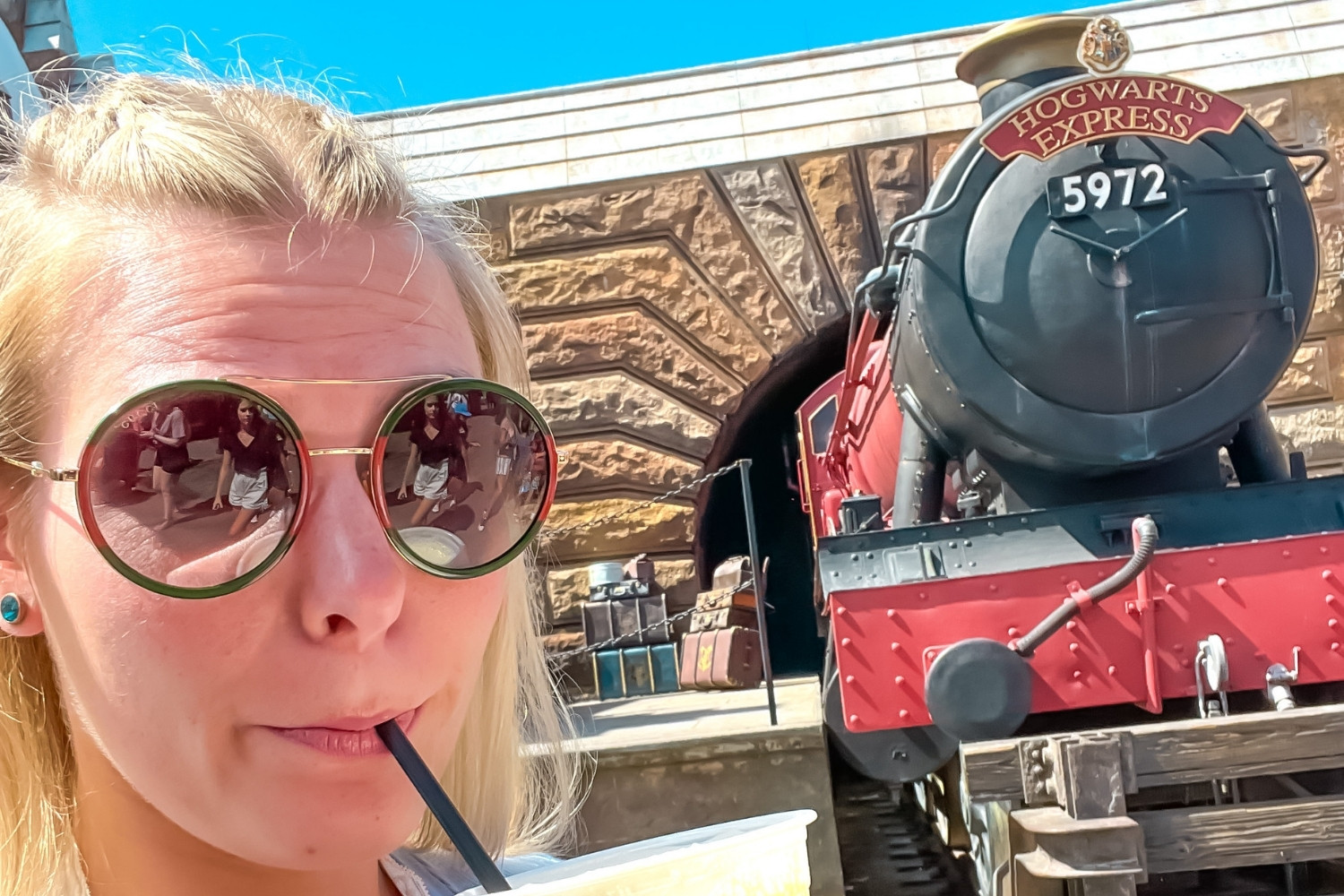 The final rides on our wish list took us back to the Islands of Adventure, starting with The Incredible Hulk coaster by name and reputation. This iconic experience first opened all the way back in 1999, and yet it is still used as the benchmark for high-speed attractions. So of course, we had to sit in the front row for the launch out of the tunnel! And not only did we get launched at 67 miles per hour but propelled into upside-down zero-gravity rolls that had me questioning the ground from the sky. Marvel fans also won't want to miss the amazing Spider-Man show. This 3-D adventure similarly opened in 1999 but remains a firm family favourite, especially if you have little ones that didn't quite make the height requirement of the Hulk (138cm).

As night set upon the parks, we took advantage of the low crowds and returned to our favourite rides, starting with the VelociCoaster - and I can confirm that the back row is better for the drops! Then finally, we got to experience Hagrid's Magical Creatures Motorbike Adventure, after the not too terrible wait time of 80 minutes (in a virtual line, don't worry). Was it worth the wait I hear you say? Well, does a centaur live in the woods? This thrilling ride raced through the Forbidden Forest, passing by the wizarding world's most magical creatures and living up to its price tag as the most expensive coaster ever built. It is also the longest ride in Florida, with a record number of seven launches!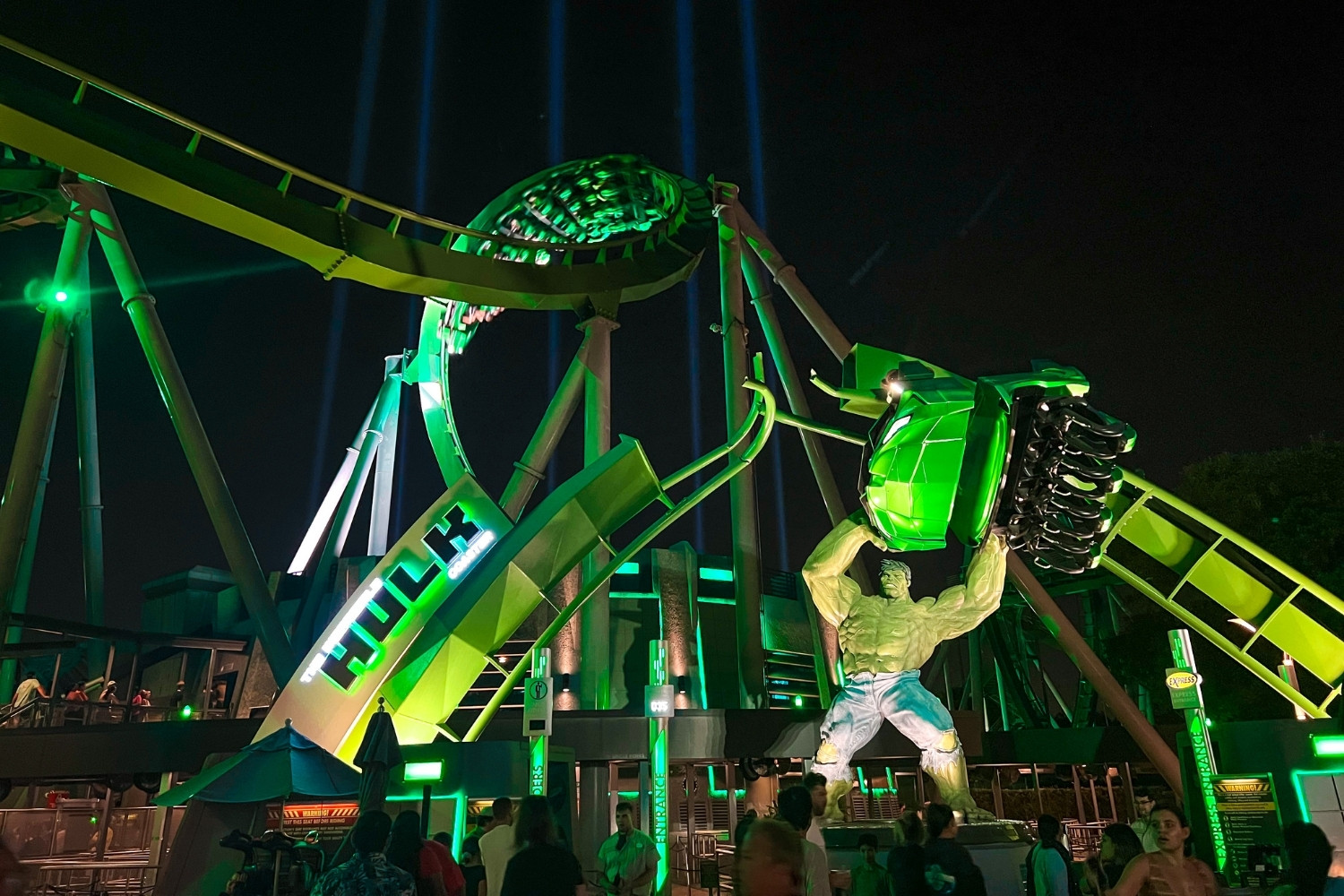 For food, I chose the Cowfish at Universal's City Walk. They call it "surf meets turf like never before" and it's perfect for everything from custom-designed burgers to sushi. The food was so good that I went there for both lunch AND dinner. But like a box of chocolates, you never know what you're going to get next at CityWalk – I spotted Bubba Gump Shrimp, a seafood restaurant themed after Forest Gump's friend, plus Jimmy Buffett's Margaritaville, ideal both an island-style menu and live laidback music. Or if you prefer to do the singing, you can headline CityWalk's Rising Star karaoke bar with the help of backup singers and a live band. And if your performance fails to hit the mark, don't worry, you can always take a swing at Hollywood Drive-In Golf – with 50s sci-fi themes and special effect lighting making it fun to play day and night!

To finish the day, I took a wander around the snow-capped Wizarding village of Hogsmeade, exploring the enchanting shops and taverns, completing an all-in-all magical experience across Universal's three theme parks.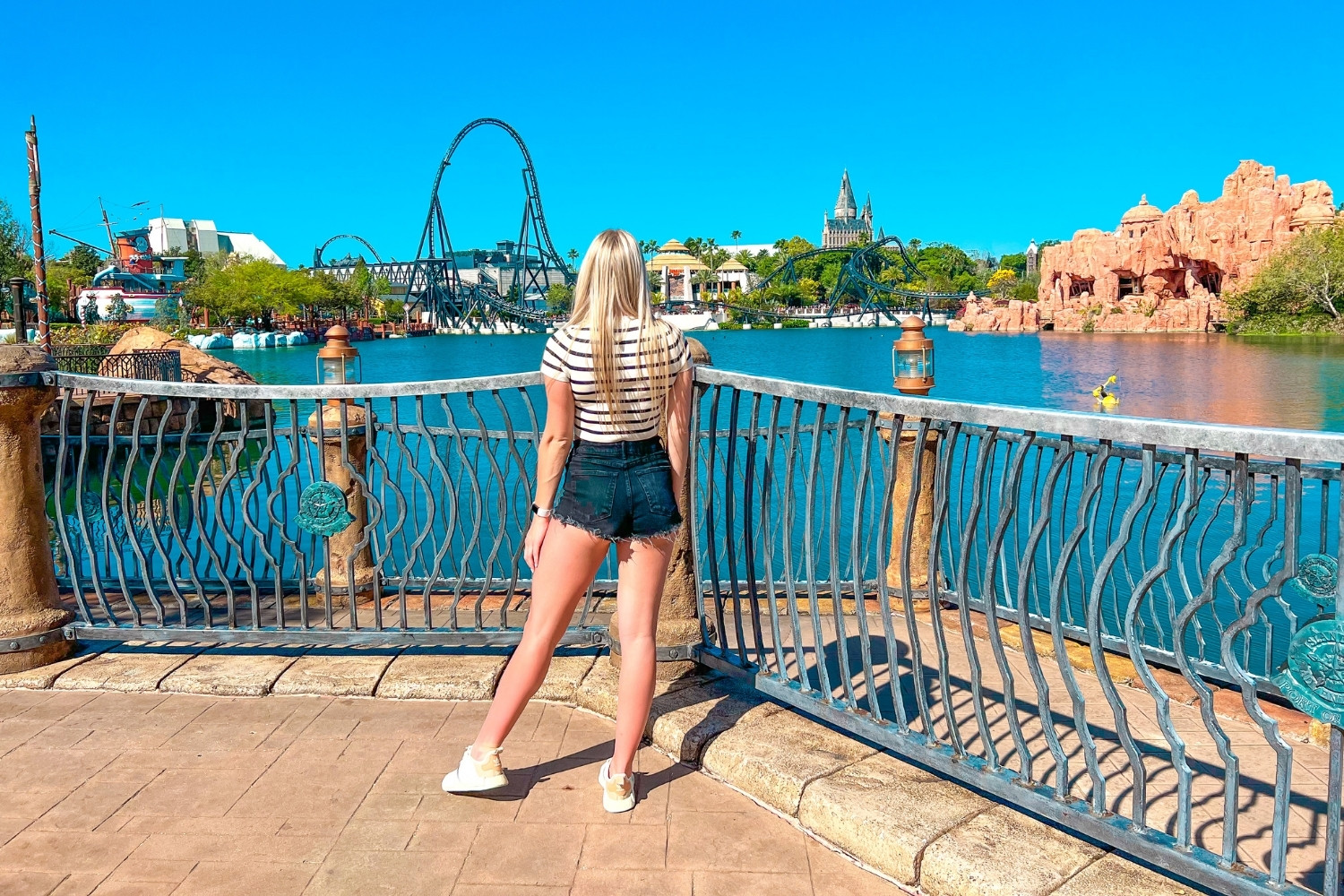 Day 9 Top Tips
✅ Ask to ride VlociCoaster on the front or back row
✅ The shortest line for Voodoo Doughnuts will always be in the morning
✅ Don't underestimate the entertainment at CityWalk
Day 9 Memorable Moments
✅ The Hulk, VelociCoaster and Hagrid rides
✅ The Cowfish restaurant
✅ The parks being lit up at night
To hear more about my theme park tester journey, you can tune into BBC Radio Scotland for my upcoming interview – plus don't forget to follow me on social media.
---
---