Discover Florida's Best Beaches
In the Sunshine State, emerald waters, soft white sands and holiday bliss await. Across 663 miles of stunning Florida beaches, the subtropical climate averages 237 days of sunshine annually. Next year, Ocean Florida can get you back to shorelines and good times with a dream trip. To help you decide where to visit first, find out about the very best Florida beaches below!
Florida Keys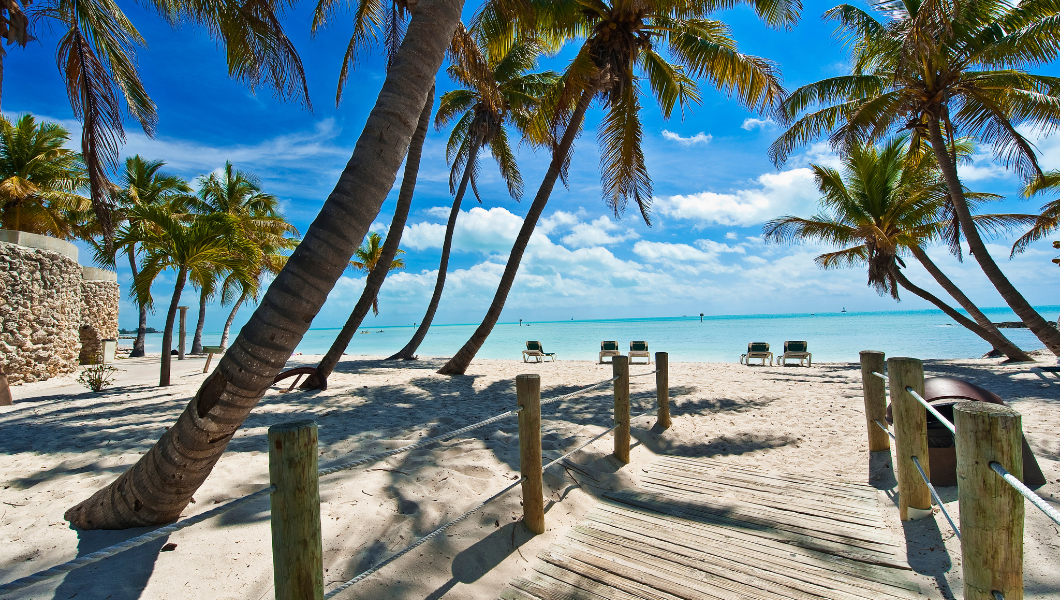 At the southernmost part of the US, the Florida Keys beaches are closer to Cuba than Miami! Check out some of the spectacular Atlantic Ocean beaches across the 800 keys..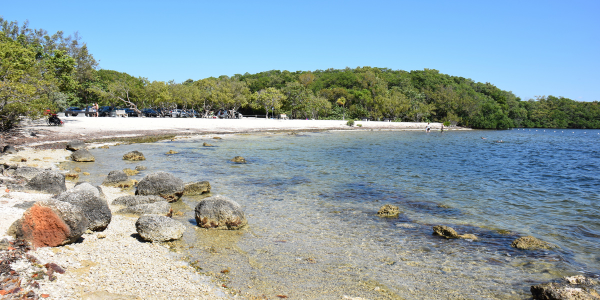 Key Largo, John Pennekamp Coral Reef State Park – The Florida Keys is North America's only living coral reef ecosystem. At the John Pennekamp Coral Reef State Park, you can experience both the beautiful marine life and scenic beaches. Located on Key Largo, we recommend the glass-bottom boat rides or scuba diving to witness the vibrant ecosystem. Upon the ocean floor, don't miss the astonishing two-tonne statue of Jesus Christ, which stands upon on a 25 feet platform.
Key West, Smathers Beach – Smathers Beach is Key West's biggest public beach and is perfect for an active holiday. From water sports such as kite-surfing and jet-skiing to beach volleyball or cycling across the promenade, you can have fun under the sun before cooling off in the calm waters. Along the boulevard, there's also a chance to recharge at the many food outlets.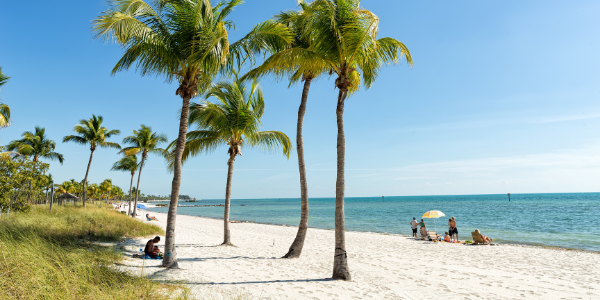 Gulf Coast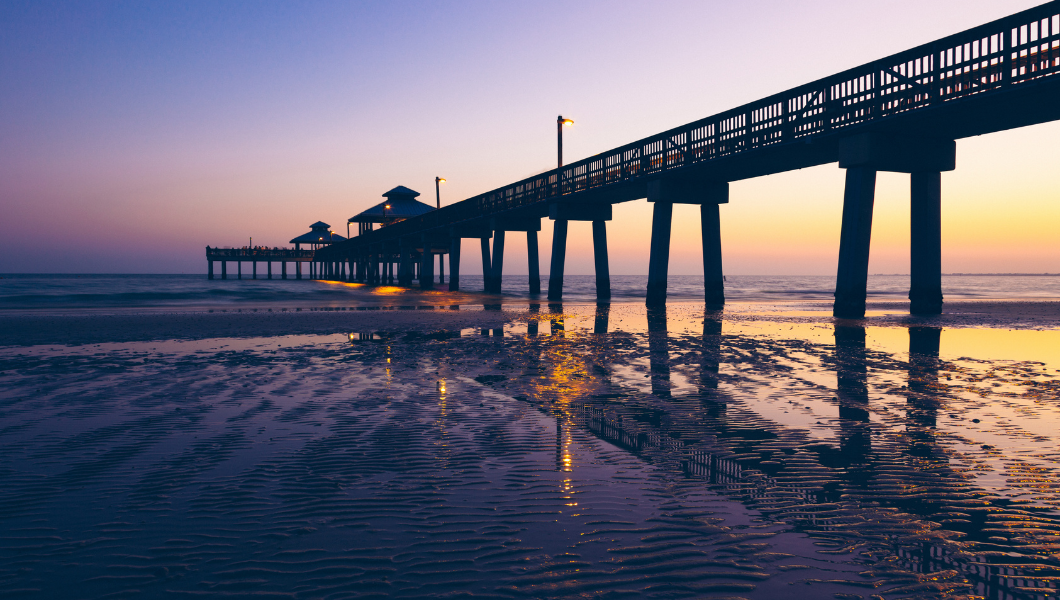 Florida is the only state that borders both the Atlantic Ocean and the Gulf of Mexico. In the Gulf Coast, 770 miles of snow-white beaches are lapped by immaculate waters beside famous landmarks. From some of the most award-winning beaches in the world, here are our top picks for the Gulf Coast...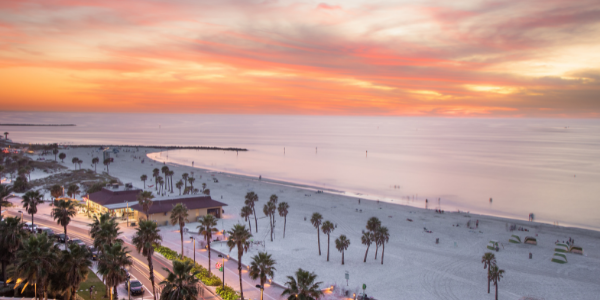 Clearwater, Clearwater Beach – Previously named the no.1 beach in the US by Trip Advisor in 2018, Clearwater offers so much more than its name. Its small-town atmosphere, marine aquarium, delightful restaurants, grand pier and countless water sports are worth celebrating too – and the locals do every sunset on Pier 60. Completing the family-friendly nature of Clearwater, kids can see the star of the Dolphin Tale film, Winter the Dolphin, at the marine aquarium.
St. Petersburg, St. Pete Beach – If you're looking for guaranteed good weather, St. Pete Beach is as close as it gets! Known as the Sun Capital of America, per year there is a staggering 361 days of sunshine. But that's not why St Pete Beach was named Trip Advisor's 2021 beach of the year: the 28-mile stretch of white-sands, palm trees, crystalline waters and untouched barrier islands are also ideally located. You will be beside the city attractions of St. Petersburg while only a short drive from Walt Disney World.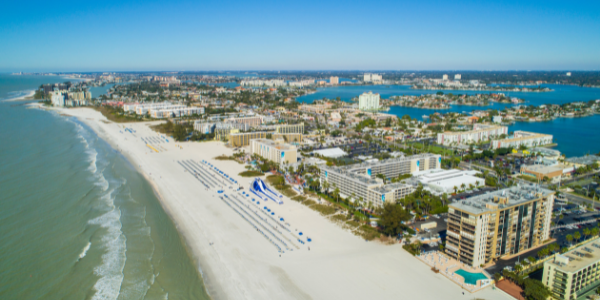 Gold Coast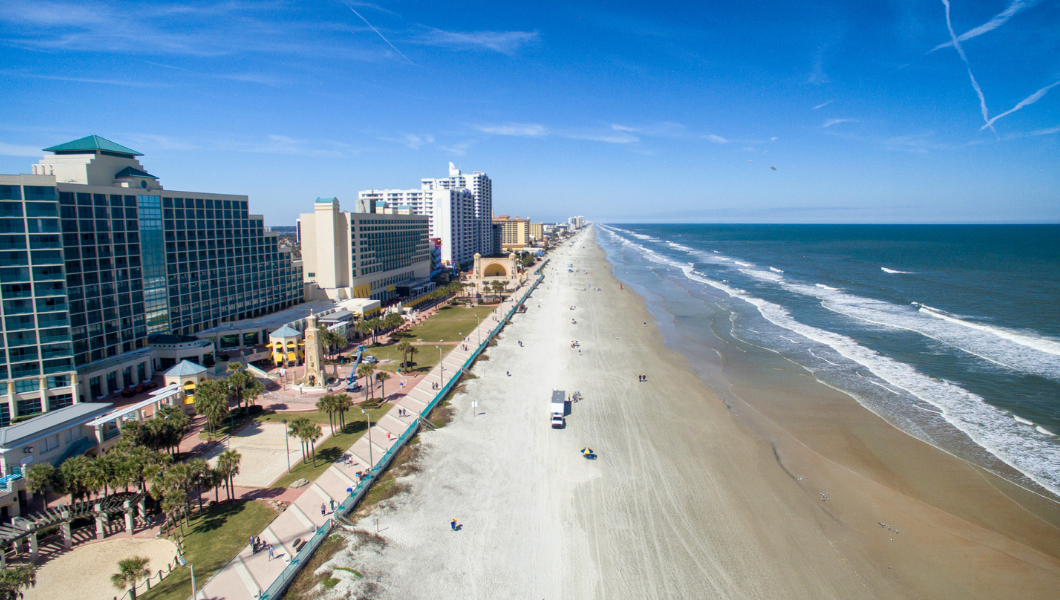 The Gold Coast's name is not derived from the Floridian sunshine but from the gold salvaged shipwrecks off its coastlines. A lot has changed since those pirate days, but the unspoiled beaches remain a national treasure offering "Old Florida" charm…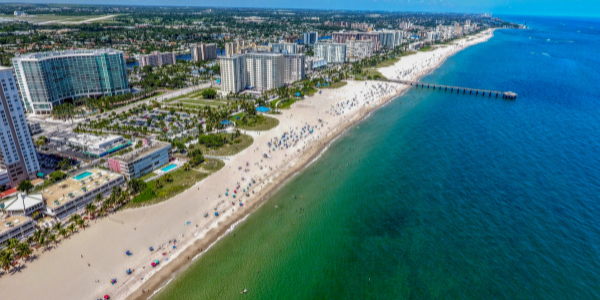 Fort Lauderdale, Pompano Beach – 300 miles of inland waterways earn Fort Lauderdale the title as the "Venice of America." The vast waterfront is intersected by canals hosting gondola rides and water taxis to the many stylish attractions. One-stop you won't want to miss is Pompano Beach, where there's something for everyone to enjoy. Diving enthusiasts can explore 18 shipwrecks, kids can let loose in the playground, adults will appreciate the trendy two-story restaurant and all ages can board a tranquil boat ride along the coast.
St Augustine, The Ponte Vedra Beach – Known as "The Nation's Oldest City" (the first to be European-founded) St Augustine is rich in cultural heritage. At the entrance to The Ponte Vedra Beach, you will find the 15-foot statue of explorer Ponce de Leon, who made landfall in Florida more than 500 years ago. Now, The Ponte Vedra Beach area is awash with luxury resorts and facilities alongside 8 miles of pristine beachfront. However, you have the chance of a free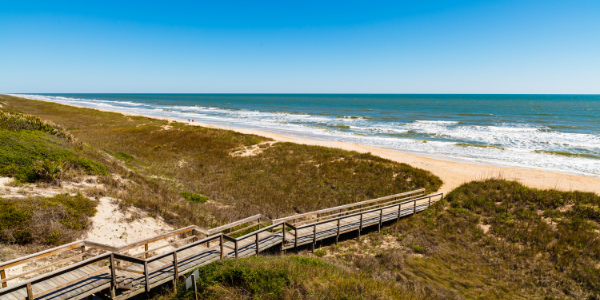 Miami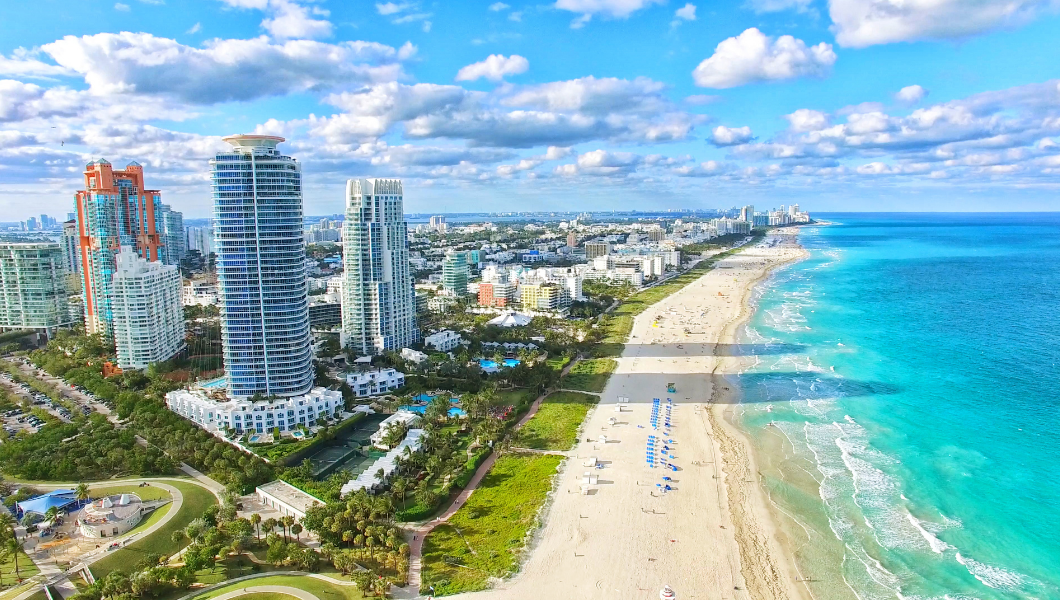 Miami Beach is a melting pot of Latin rhythms, Cuban Cuisine and Spanish eccentricity. This diversity is what makes Miami a favourite of the famous and the laid back holidaymaker. You might have heard about Miami's renowned beaches but here's our inside story for what to look out for..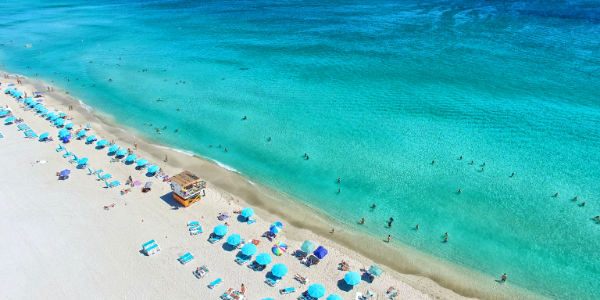 Miami Beach, South Beach – Boasting the most famous sands in Miami and the hallmark for picturesque ocean fronts, South Beach is an iconic destination. Here you will discover a lively atmosphere that isn't matched anywhere else. The surrounding Art Deco architecture, including a total of 800 buildings, undoubtedly add to its appeal. For an active stay, head over to Haulover Park for fishing, tennis, golf, bicycle rides and more. In truth, if you don't see a chic dressed roller bladder pass you by, you may not be in South Beach!
Miami Beach, North Beach –If you are looking for somewhere quieter than South Beach, North Miami Beach is ideal. Here, you can still enjoy the shores of "America's Riviera," but in a family-oriented environment. A highlight is the Bandshell, a giant green space where kids can play under canopies and the shade of trees beside the ocean. Families can also use the many barbecue grills and picnic benches with enough privacy to relax in their own company. However, if you feel like beach-hopping, there is a flat path leading straight to Miami's other beaches too.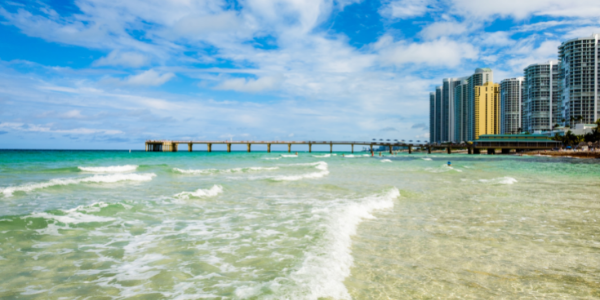 Why not combine beach bliss with theme park thrills?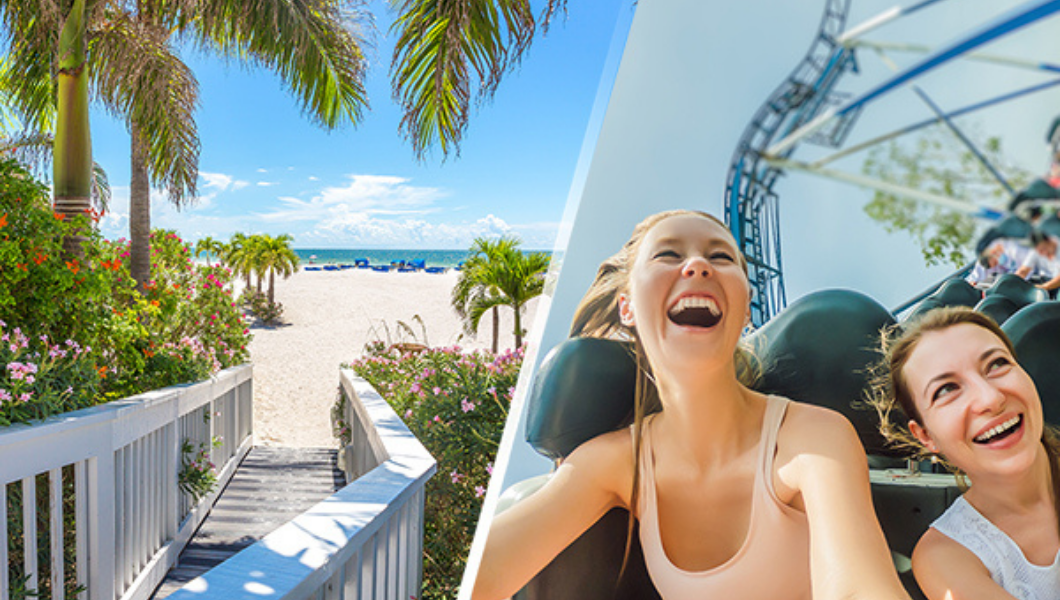 From sugar-white shorelines to roller coaster skylines, we can help you experience both sides of the Sunshine State. Whether you are looking for beach bliss from the Gulf to Gold Coast or an Orlando base for the thrill of theme parks - why choose you can do both in one trip? Check out our Florida Beach and Florida Twin Centre packages here.
---
---