HIRED: THEME PARK TESTER!
WOW! What a journey it has been... from 63,401 to 70 to just 6 of you! We would firstly like to say a big thank you to each and every one of you that applied. We have been overwhelmed with the quality and enthusiasm - making our lives incredibly difficult when whittling it down to just ONE lucky person... But, after plenty of interviews and much deliberation, the decision has officially been made!
We can confirm that Alexandria Adamson has been appointed as our Theme Park Tester!
As our professional Florida Theme Park Tester, Alexandria will spend three magical weeks in our parks in May 2020! Her mission? To test and fully experience everything from rides, fireworks and shows, to the tastiness of the food and cuddliness of the much-loved Disney characters.
Being a huge theme park nerd; Alexandria has not only lived and worked in Orlando for 15 months, but has studied Theme Park design at University too (how awesome!). With her extensive theme park knowledge, her experience in creating top-notch content and her great enthusiasm – we are certain she is a perfect match for the job!
If you'd like to follow Alexandria's 3-week mission in the sunshine state – you can do so by following us on Instagram and Youtube. Expect numerous in-action stories, multiple insider tips and tricks, as well as weekly YouTube videos so you can enjoy the magic alongside her!
#OceanFloridaDreamJob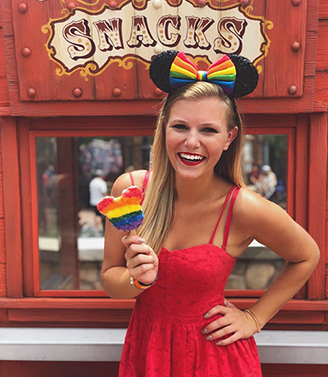 Alexandria Adamson
Anyone that's spent any time with me in the parks will tell you how much the theme park experience means to me. They'll tell you how excited I get when I perform my spell right in Diagon Alley, they'll tell you how teary I get when a character waves just at me during the parade, they'll tell you how I analyse and discuss every detail of a ride the first time I ride it and they'll definitely tell you about the library of facts I have about the parks. I can spend the day trying to ride every ride and I can also spend it walking around, watching shows, eating the food, playing the interactive adventures, throwing myself into the immersive worlds they've built. I love that no two days are ever the same but every single one of them is as special and unique as the theme parks themselves. I grew up around these parks and their beliefs of magic and adventure. I spent my life telling people that one day I would design my own theme park. A theme park tester is a pretty good start. This journey with Ocean Florida would be real life dream come true.
Who would you bring with you to complete this job and why?
For this job I'd bring my mum, after all she is the main culprit behind my theme park obsession. She brought me to the parks year after year as a child. She does some amazing walks/hikes, like the West Highland Way, the Grand Canyon, the Canadian Rockies and even Mt. Kilimanjaro. So she is in peak physical shape to be running around the parks for 21 straight days. Raising 4 kids, she can run on minimal sleep, so she's the perfect candidate to be at the parks at the crack of dawn until the very last guest. I also got my sweet tooth from my mum, so she'll be more than happy to try all the tasty snacks with me, while making sure I don't make myself sick. She took me to the parks for my whole life and this time I'd like the chance to take her.
What are you most excited about featuring if you were to be hired for this job?
Specifically, I'm very excited for 'Mickey and Minnie's Runaway Railway' opening in March. Considering how iconic Mickey Mouse is to the Disney parks, it's pretty surprising that this is his first attraction, so you would assume it's going to be very special.
Overall, I'm most excited to help people make the most of their Florida holiday. While working there you realise how important these trips are to people. Some people will spend their whole life saving to bring their family to Florida, and for a lot of people it may be the only time they get to experience the parks. I'm excited about being able to show people how to fit as much as possible into their holiday. Sharing tips and tricks to get the best wait times, how to find fun things to do while waiting on the next fast pass, what to do when Florida weather hits, where to find the hidden gems and demonstrating how to utilise the park maps and apps to plan your perfect theme park day. I want to show people how to enjoy every aspect of the theme park experience to create a once in a life time unforgettable trip for the whole family.
Follow Alexandria's story as Ocean Florida's Theme Park Tester by giving us a follow on Instagram and Youtube...
Secure Your Dream Holiday With Our Disney Promise
We are delighted to share early access to our 2023 Walt Disney World holiday packages. Secure your dream Florida holiday today, with our Best Offer Promise: if Disney launches any special offers that apply to your booking before you travel, subject to availability we'll automatically rebook your holiday to ensure you benefit from the very best deals. This exclusive offers also includes 100% ATOL protection and flexible payment plans. Plus, we're giving away a FREE Disney Autograph Book with every booking. All that's left to worry about, is choosing your favourite resort! Learn more about your options below, and call our Travel Specialists today...
Why Choose Us for Your Disney World Holidays?
Best Offer Promise
If Disney releases any special deals, that apply to your booking, before your 2023 departure, we promise, subject to availability, to rebook your holiday to include these savings.
Award-winning Services
We're proud to be three-time winners of Best Holiday Company to the USA at the British Travel Awards in 2019, 2020 and 2021
Flexible Payment Plans
Dream big and deposit little on Disney World packages that spread the cost of your trip right up until departure.
Full Financial Protection
Ocean Florida customers experience both ATOL and TTA protection. This guarantees that all travel arrangements are 100% secured.
Florida-Based Team
Our team in Orlando is on hand 24/7 should you have any further travel needs or questions.
---
Inspiration for Your Choice of Disney Hotels
Disney World offers an astounding 27 resorts to choose from. Magic is guaranteed but themes, amenities and prices vary. Thankfully, we've decades of experience helping thousands of families fulfill their dream Disney escapes. We've selected some of our favourite resorts, from Deluxe to Value, to help give you some travel inspiration...
Disney's Animal Kingdom
Hotel category: Deluxe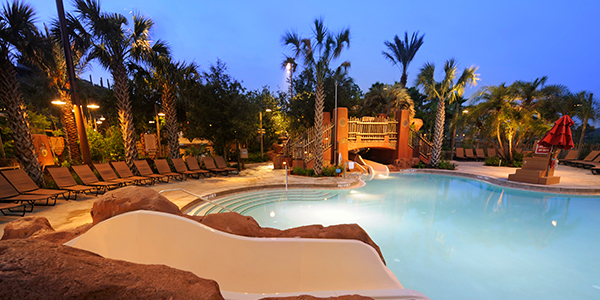 Two travel dreams collide, as an African safari gets a touch of Disney. This horseshoe-shaped hotel sits in 40 acres of savannah and is home to over 200 freely roaming animals. Often described by guests as a theme park experience in its own right, this resort places you right at the heart of your Disney adventure. Here, you only have to step outside your door to witness a scene straight out of The Lion King. What's more, you can enjoy carved wood interiors, African art collections, pristine pools and a free shuttle bus to and from theme parks.
Disney's Pop Century Resort
Hotel category: Value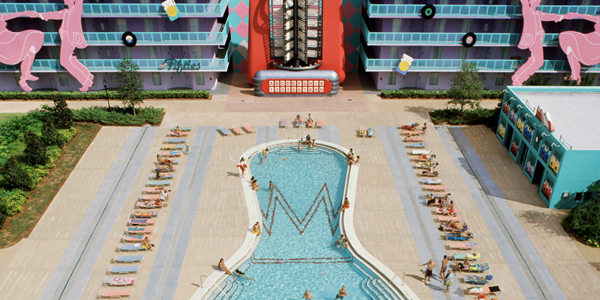 Take a trip down memory lane and re-experience the best of pop culture at this fantastic resort for families of all ages. From yo-yos to rollerblading, all fashion is timeless and anything is possible at Disney's Pop Century Resort. Both adults and children alike will enjoy shared nostalgia whilst making new memories together. You'll also love the themed pools with water jets, the vintage food courts and classic movies shown under the stars. For those heading to Disney's theme parks, a sky-liner provides direct access to Epcot and Hollywood Studios.
Disney's Wilderness Lodge
Hotel category: Moderate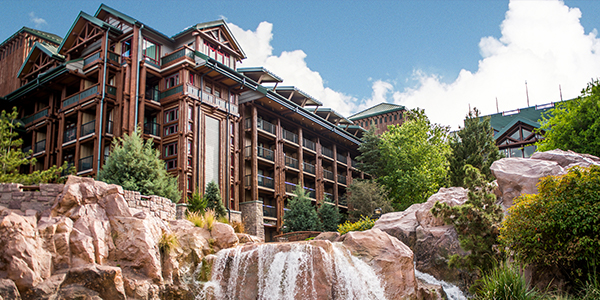 Inspired by the untamed nature of America's North West frontier, this grand mountain lodge takes you back to the turn of the 20th century with gorgeous untamed wilderness. Original Native American carvings add authenticity to your stay, with totem poles and an on-the-hour 40 foot geyser adding a touch of fun! Outside you can discover nature trails through pine forests beside a beautiful waterfall which lead to a sandy beach at the back of the resort. All in all, this makes Disney's Wilderness Lodge a unique retreat to the natural freedom of yesteryear.
Disney's All-Star Sports Resort
Hotel category: Value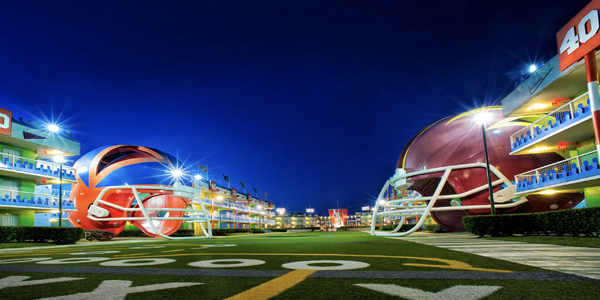 Like Jordan and the Bulls or Brady and the Patriots, this resort is the winning combination for sports fans. Celebrating basketball, football, baseball, surfing and tennis set amid decorations featuring your favourite Disney characters. You can also enjoy two outdoor pools, a man-made beach, a stadium hall, an arcade and a playground in a league of its own. For getting to Disney's theme parks, you'll only be 1.8 miles from Animal Kingdom.
Disney's Coronado Springs Resort
Hotel category: Moderate.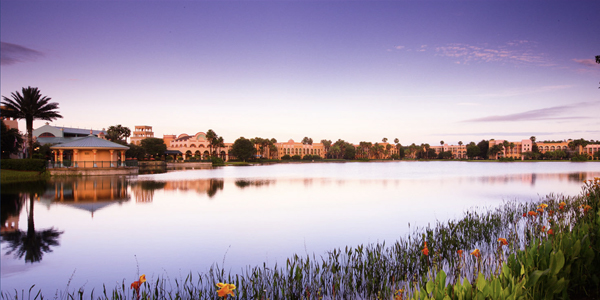 This lakeside oasis provides a unique mixture of American Southwest and Mexican culture featuring 4 pools complete with ancient temples and monuments. The accommodation and grounds of the hotel have also recently undergone huge remodelling providing modern comforts and an array of new features including a health club, jogging trails, on-site Latino cuisine, and a 5-storey water slide from the Mayan pyramid!
---
---