Day 5 – Alexandria's Deep Dive Guide for SeaWorld
Confession: this is no regular review of SeaWorld…

Right from when we arrived, we got the VIP treatment from our tour guide Meg, who whisked us aboard their brand-new ride: Ice Breaker. Under the hot Floridian sun, this sounded like a nice way to cool off, but the 93 feet vertical drop got me working up a whole new sweat! Nonetheless, the ride was incredible, and after only opening in February 2022, I'm sure it will be a star attraction for years to come. So much so, that just one go on the ride wasn't enough for us – especially as the Project Manager of the Ice Breaker, Brian, gave us to pro-tip of sitting in the back row for an even better experience.
Next, we met everyone's favourite furry friends at Sesame Street to watch their parade. This show genuinely pulls on the heartstrings of both parents and kids alike. After all, the Sesame Street TV show holds childhood memories for both generations, with 2022 marking its 53rd anniversary. And I'm happy to say all the gang were back for the Sesame Street parade - from Grover to Big Bird. Afterwards, we got to meet the legendary Cookie Monster, but the highlight was watching his googly eyes light up the faces of kids around us, who were already primed for this immersive experience by the parade. The only thing left to say on Sesame Street is the Cookie Monster's sage advice, that's never been more apt than when on holiday:
"Early bird gets the worm. But cookie taste better than worm. So me sleep in."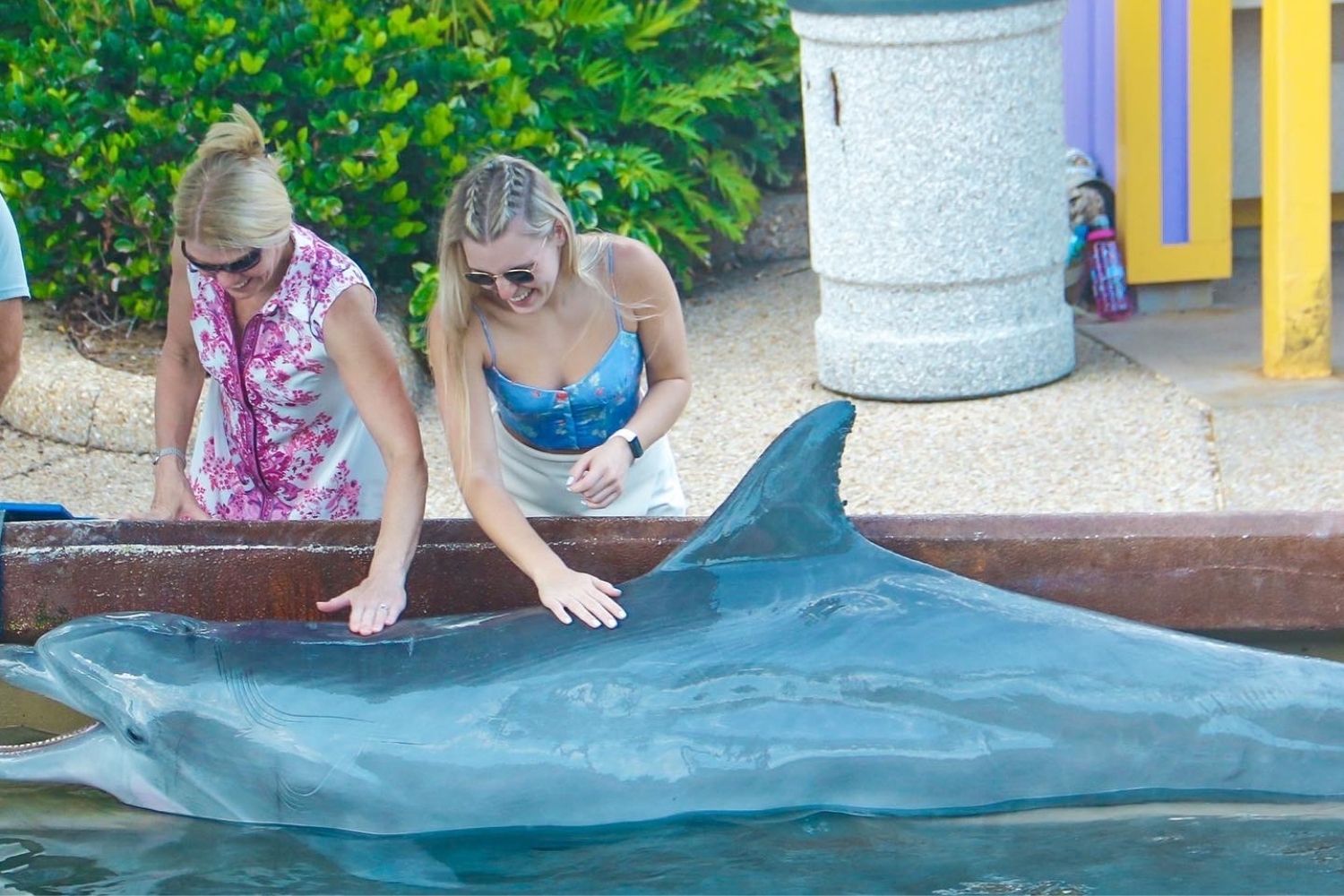 For lunch, we chose the award-winning Shark Underwater Grill, which had us working up an appetite even as we entered by letting us feed the sharks on the way. Inside, there were mesmerising windows full of even bigger sharks swimming right by our dinner table. And to top off the experience, the food was the best we'd eaten so far in Florida – from a menu offering a wide range of grilled food beyond just seafood.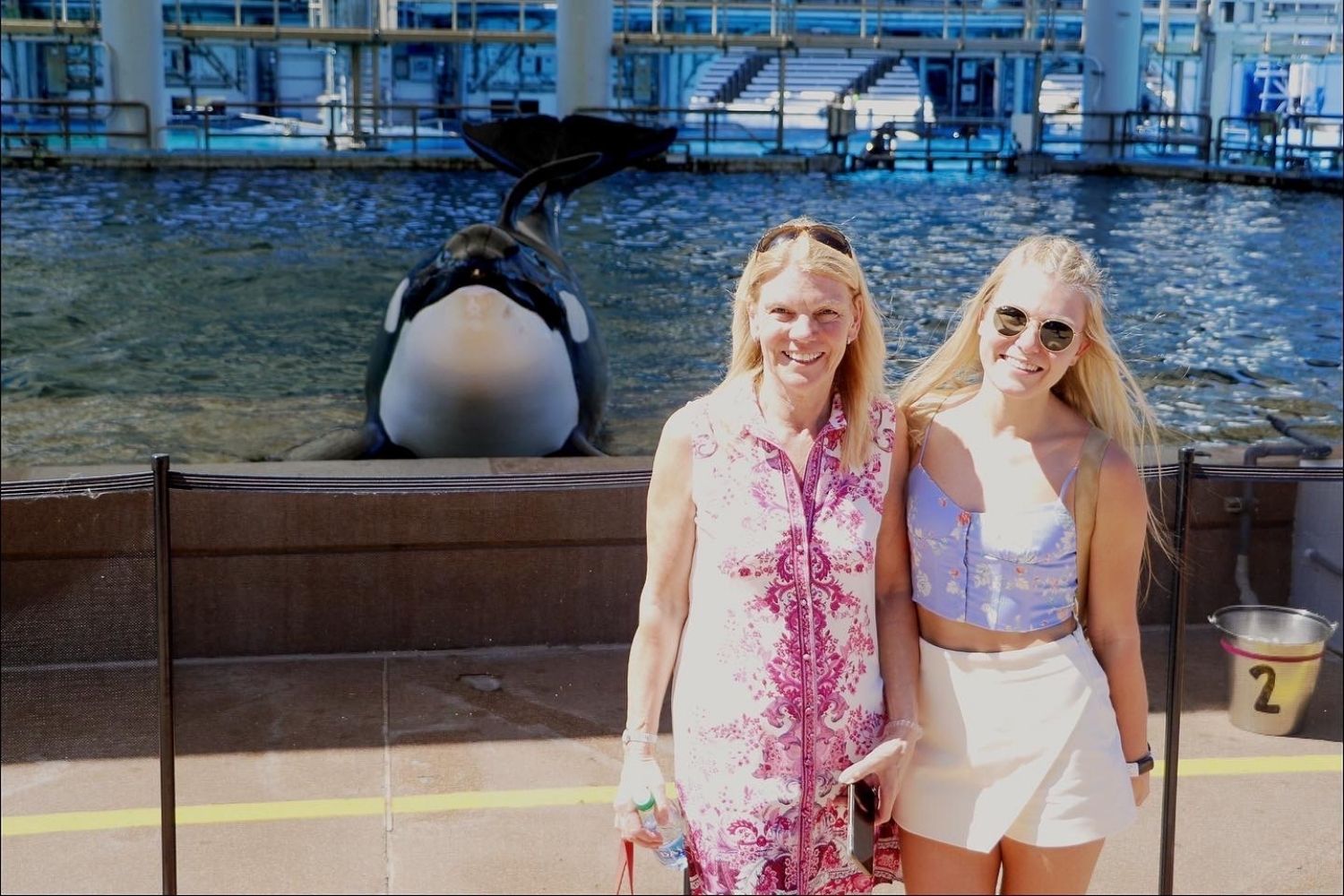 To finish the day, we had some truly once-in-a-lifetime encounters with animals, starting with a special meet-and-greet with orcas backstage. The beautiful whales even danced with us for treats and posed for selfies, before we got to hold hands with sea lions and pet dolphins at the other nearby sanctuaries. On a more serious note, we met Animal Care Specialist Maggie, who showed us the medical treatment SeaWorld is providing at the Mammal Health Center, including the care of a manatee that had been recently stabilised from a critical condition, with the hope that he would soon be released in full health.

A special mention has to be made for the Mako, Kraken, Infinity Falls and Manta rides, that despite justifying their hype, didn't quite make my list of splash hits - only due to how spectacular the interactive experiences were, that all-in-all, add up to SeaWorld being my first 5-star theme park rating!

For more content on my theme park tester journey, don't forget to follow on social media.
Today's Top Tips
✅ Learning more about SeaWorld's animal care
✅ Getting up close and backstage with orcas
✅ Riding the brand-new Ice Breaker rollercoaster
✅ Lunch at the delightful Shark Underwater Grill
Today's Memorable Moments
✅ Remember to plan your day around the shows
✅ Speak to the friendly staff to learn more about the animals
✅ Take advantage of SeaWorld's fantastic restaurants
---
---