The next attraction we used our Lightning Lane passes for was Mickey & Minnie's Runaway Railway. For any young family, this ride is perfect. As the name suggests, scary alien spaceships are out, and a leisurely drive is instore. However, there is one caveat - physics doesn't apply here. Instead, we ventured into a cartoon world full of slapstick gags and mind-warping landscapes. And here's a fun fact, despite featuring the classic duo of Mickey and Minnie, this ride only opened in 2021 The new aspect of this experience is the technology; it's a trackless dark ride that doesn't require rails and is, therefore, able to reverse and rotate to wildly entertaining results.
For more family-friendly twists and turns, check out Slinky Dog Dash. Its drops are moderate, but its backdrop of Andy's yard is oversized and sure to deliver huge nostalgia.
For lunch, we inevitably found ourselves back in Galaxy's Edge, but not at the restaurant you might expect. The go-to reservation on this side of the cosmos is Oga's Cantina - the famous bar in A New Hope where bounty hunters, galactic smugglers and the odd Jedi hang out. But for a quick pit-stop snack, Docking Bay 7 is my top tip. Housed in an old hangar bay, you can feast on local Batuuan beef, Endorian chicken, Takodana Veggie Dippers and other common bites with a Star Wars twist. The best part? You can click and collect the food with a mobile order!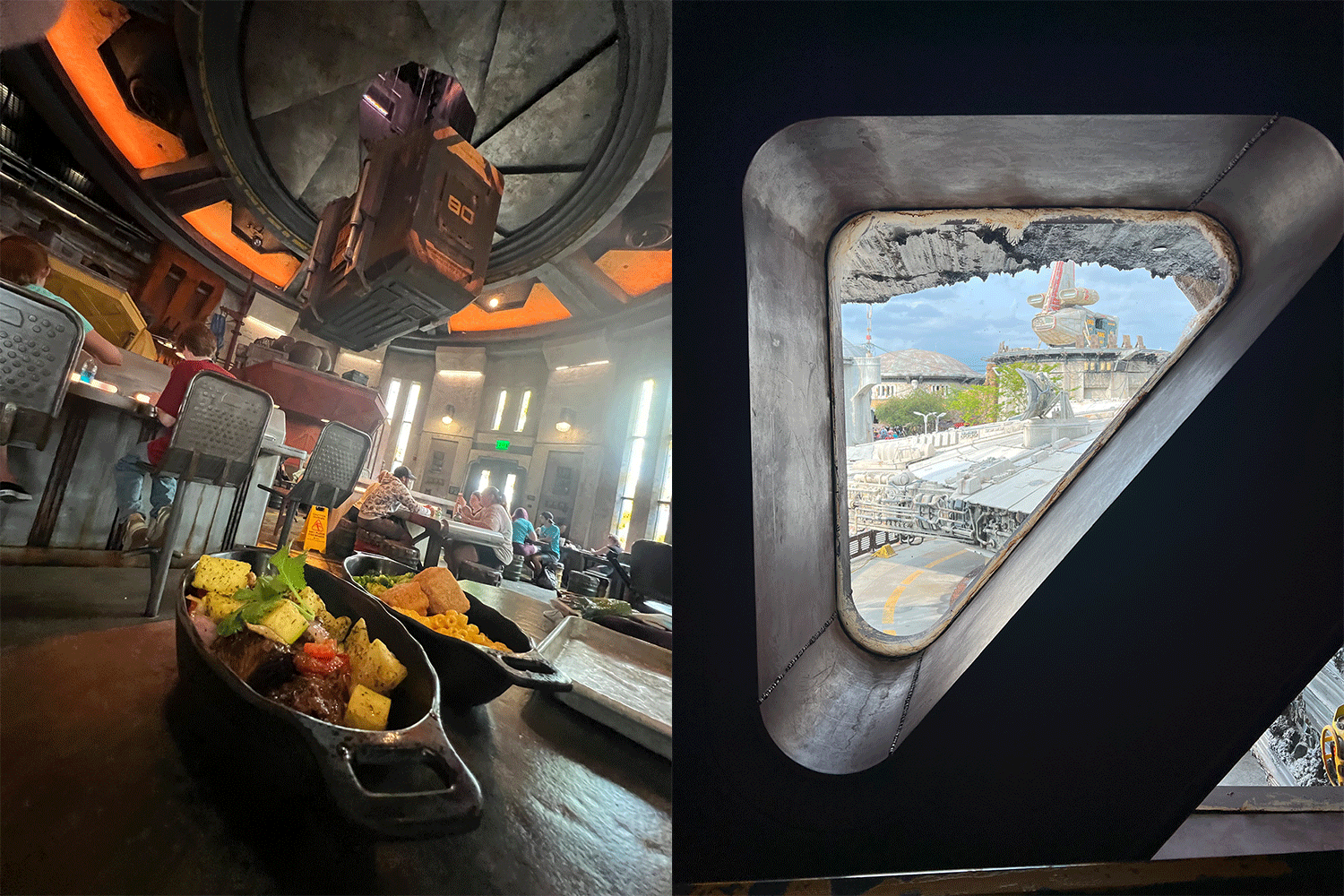 With our bellies full, the afternoon was reserved for a live show with our seats firmly on the ground. First, we watched Indiana Jones Epic Stunt Spectacular - my favourite Hollywood Studios show. Treating us to scenes straight out of Raiders of the Lost Ark, Indy dodged traps and fought bad guys in death-defying stunts with old-school special effects that added a true sense of realism. Expanded upon these old Hollywood tricks, after the main show the cast demonstrates how to take a (fake) punch, wield whips and 'safely' fall from buildings.
I also must give a quick shout-out to the hilarious Muppet Vision 3D in Grand Avenue , and Toy Story Mania, a fun-filled 4D shooting game in – you guessed it – Toy Story Land. But with our stomachs settling down, it was time to live life in the fast lane again…
The legendary Rock 'n' Roller Coaster starring Aerosmith took us through three high-speed inversions, two rollover loops and one corkscrew, as we raced through LA landmarks listening to the band's signature songs, such as Walk This Way. Yet be warned, you may need a hand to walk straight afterwards. This iconic attraction opened all the way back in 1999, but still rivals the fastest rides in the world.
By night, we caught two projection movies beaming onto the walls of the Chinese Theatre: Disney Movie Magic and the Wonderful World of Animation. After a memorable day, this nostalgic tribute to 90 years of Disney and Pixar animation was the perfect way to end the experience with where it all began.
However, my diary of Disney theme parks isn't over just yet – keep reading for one more final guide on where to find the magic…
Today's Memorable Moments
- The Rise of the Resistance ride
- The Rock 'n' Roller Coaster
- Mickey and Minnie's Runaway Railway
Today's Top Tips
- Use mobile orders on food and beverage whenever possible, but especially in Galaxy's Edge
- Consider buying a Lightning Lane pass for any Star Wars attraction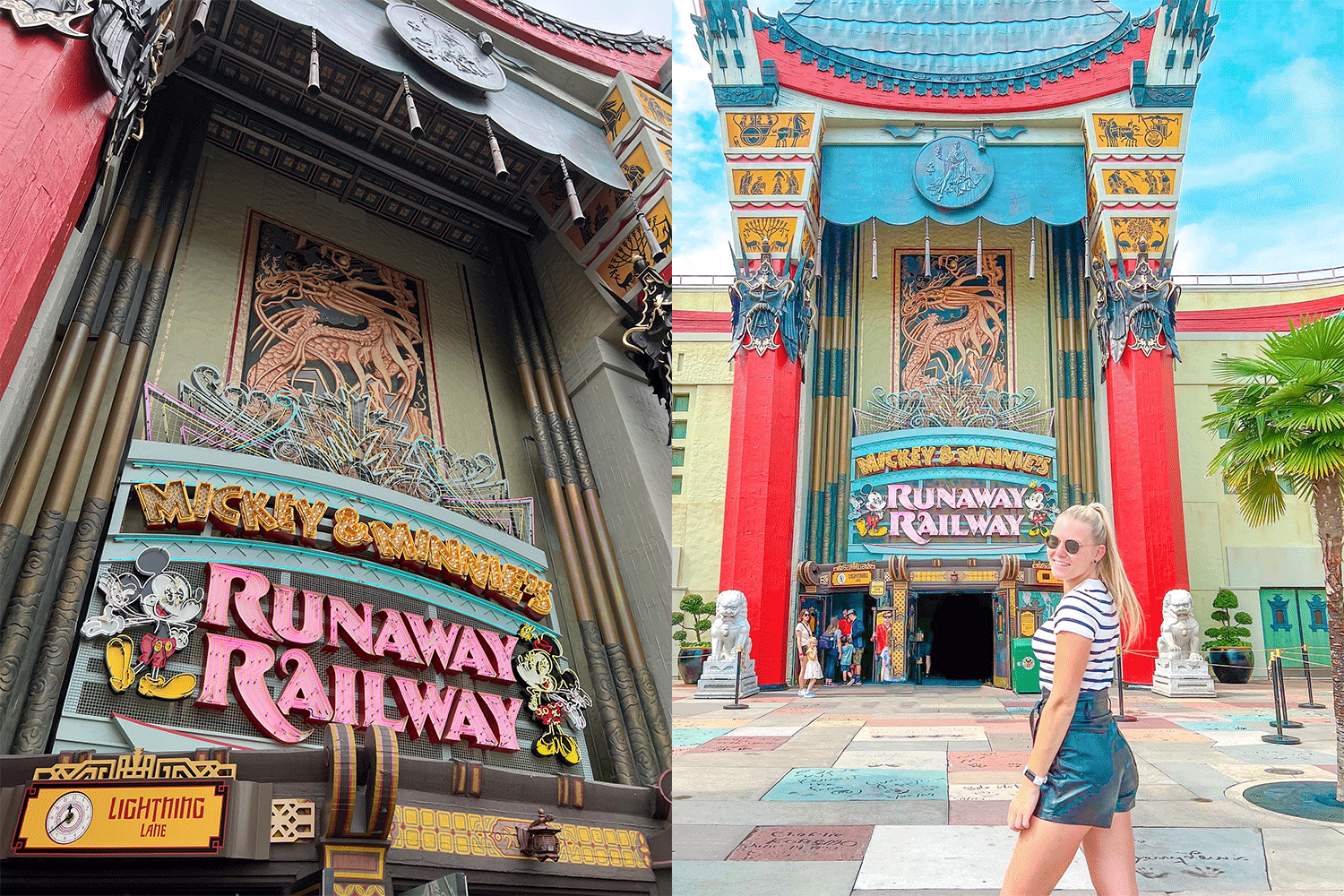 ---
Bad news: my final day of theme park testing promised awful weather in the early afternoon. But where better to learn how to dance in the rain than at Magic Kingdom!
Armed with Genie + and Individual Lighting Lane passes in the morning, we still managed to get on Peter Pan's Flight, Haunted Mansion, Buzz Lightyear's Space Ranger Spin, Pirates of the Caribbean, The Many Adventures of Winnie the Pooh, Space Mountain, Jungle Cruise and Big Thunder Mountain Railroad. A huge thank you must go to Genie+ for getting us into all these attractions.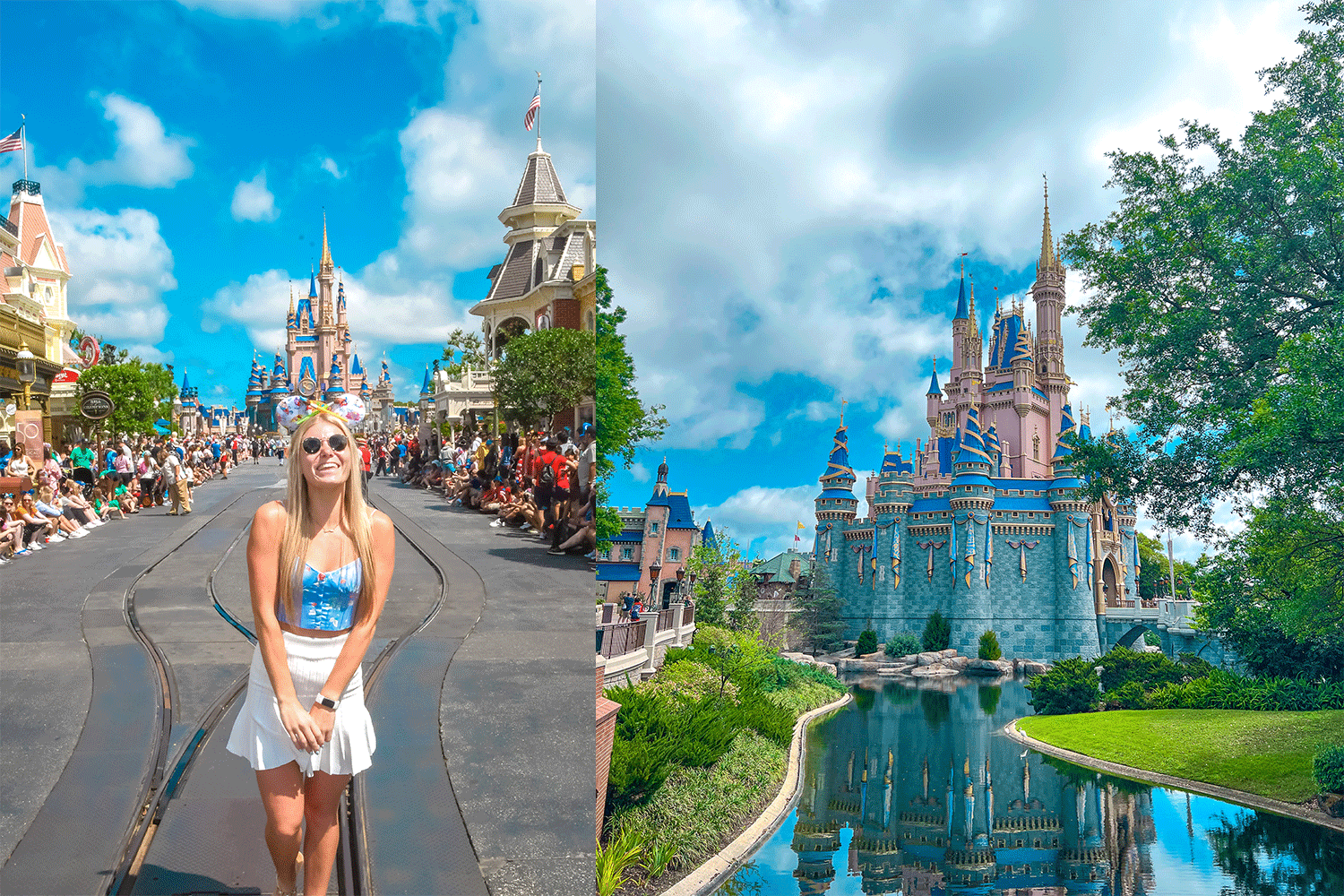 Remember, whilst the Disney Genie app is a free service that lets you personalise your experience – using info such as ride wait times– Genie+ is a replacement for the previous FastPass system and costs $15 per person per day. For the most popular attractions, I have to say that the Lightning Lane access that Genie+ provides is invaluable.
Out of our action-packed morning, I'd also like to sing the praises of Pirates of the Caribbean. This immersive dark ride first opened all the way back in 1973 and will still have you hollering "A Pirate's Life for Me", as you voyage through cannon fire and ransacked seaports. And of course, it wouldn't be Pirates of the Caribbean without a special appearance from Captain Jack himself!
During days of stormy weather, you can also rely on Captain Jack to steady the ship and keep Pirates of the Caribbean open. Other attractions that remain available during thunder and lightning include the likes of Winnie the pooh, Journey of the Little Mermaid, PhilharMagic (which includes a wonderful new Coco character scene) and many more indoor events.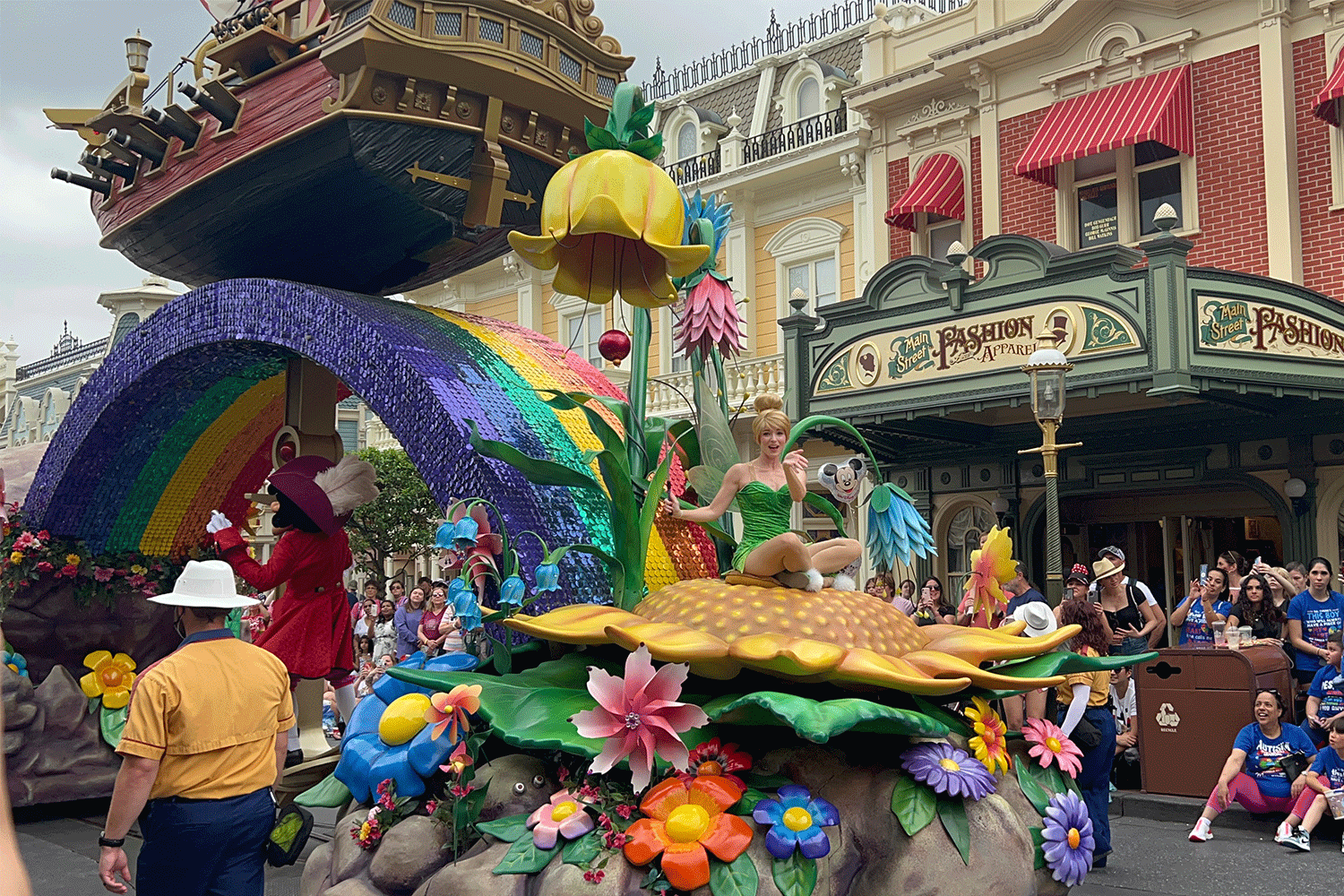 It is the big coasters that go down, such as Big Thunder Mountain Railroad, Splash Mountain, Jungle Cruise, and the Seven Dwarves Mine Train. For the latter ride, lightning struck right at our entry time. However, rest assured that if this happens to you, like us, you can get a pass to return as soon as the ride is back up and running – which doesn't usually take long.
To take shelter from the rain, we headed to the Enchanted Tiki Room. This vintage attraction opened even before Pirates of the Caribbean, in 1963 at Disneyland Park. In 2022, it's Magic Kingdom's Polynesian paradise where you can experience a theatre show conducted by over 200 animatronic birds – it's cuter than it sounds, trust me! Its ground-breaking technology also paved the way for attractions such as Pirates of the Caribbean and Haunted Mansion.
To finish the day and sign off from our journey at Florida theme parks, we experienced the brand-new night-time event Enchantment. The firework and light show bonanza took place from Cinderella Castle all the way down to Main Street, USA, as timeless Disney songs and characters took us through generations of childhood dreams, living up to shows promise of 'empowering us to still believe in ourselves and magic.'
And in these testing times, I dare you to experience the fairytale of Disney parks and not believe. Because more than ever, those magical moments brought my family together, and I can't wait to hear all about your time here too, that on a rainy afternoon back in Britain, will bring a whole lot of sunshine to my day. In the meantime, thank you so much for following this theme park tester journey, and to the whole team at Ocean Florida that made this wonderful adventure possible!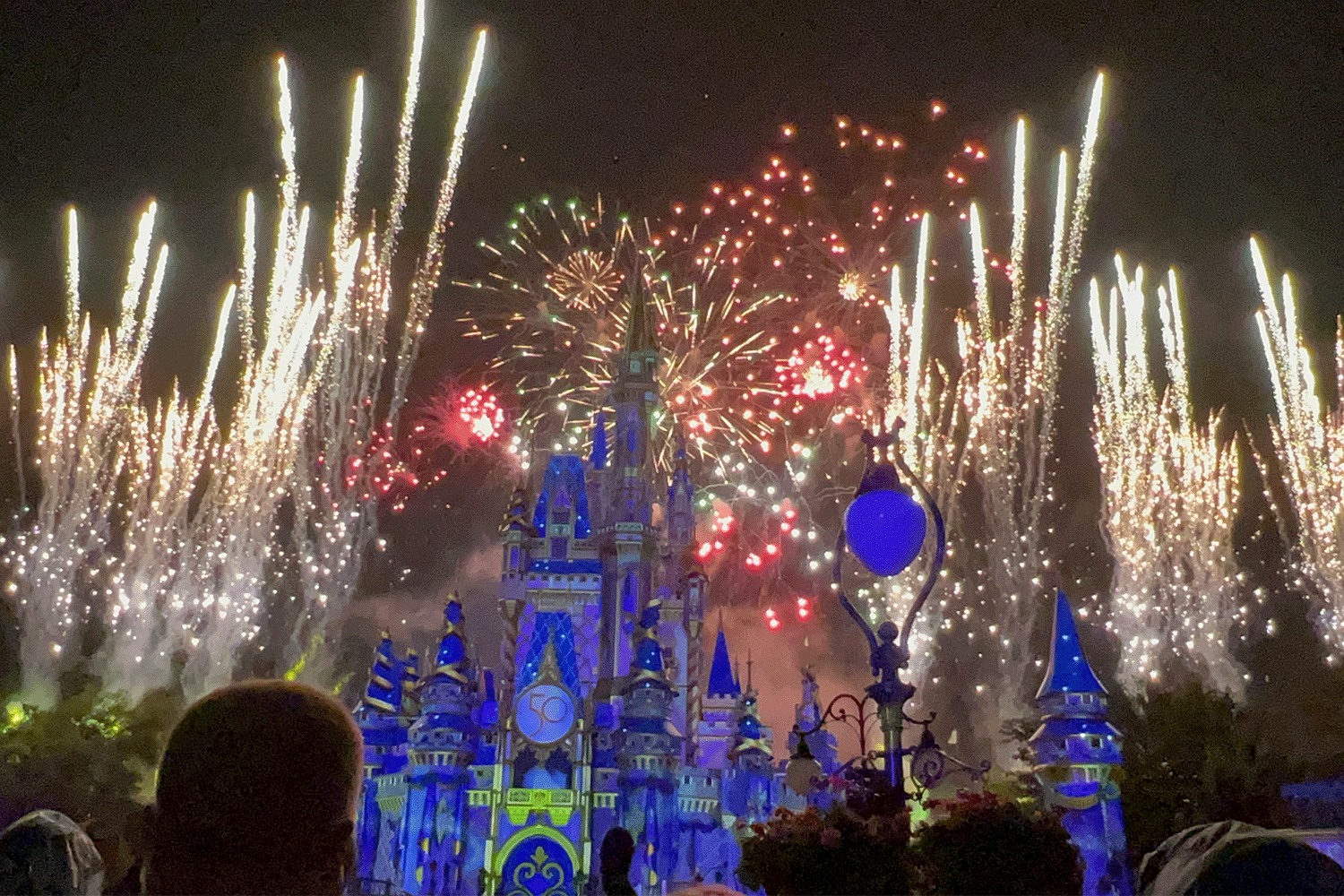 Today's Memorable Moments
- Finally getting the hang of Genie+ for quick access to 9 rides
- Skipper Canteen for lunch
- All of the shows, from Enchantment to all the cavalcades
Today's Top Tips
- As soon as you tap in for one Lightning Lane pass on Genie +, immediately go on the app to book the next one
- Book restaurants in advance, it's very difficult to get a full-service restaurants on the day at Magic Kingdom
- If you get a chance to see Enchantment twice, do one by the Partners Statue so that you can enjoy the projections onto Cinderella Castle. Then head to the middle of Main Street, USA, for projections onto its buildings