It comes as no surprise that many of the parks and attractions in Orlando – and across Florida – are wheelchair-friendly. Many rides are adapted to accommodate; ramps are fitted, and separate paths are created for quicker and easier access when queueing, plus most public areas are expertly designed to be inclusive and accessible to everyone.
What you may not know is that there are many wheelchair-accessible beaches in Florida too, which means that the opportunities for multi-centre holidays in the Sunshine State are a great option for all holidaymakers. Beach wheelchairs and buggies come in various shapes and sizes, but they usually all feature specially designed inflated wheels that can navigate unstable terrains such as sand and sometimes water. Those beaches that cater to visitors with wheelchairs often also provide accessible (and free) parking as well as accessible restrooms and showers.
Florida is renowned for its abundance of beautiful beaches so we have put together a list of some of our favourite spots that will cater to those using wheelchairs and those with other mobility requirements for easier access to the sands and waters of its spectacular coastline.
Easily one of our most popular oceanside destinations in Florida, Clearwater Beach does not disappoint when it comes to accessibility. There are already two manual beach wheelchairs available at no charge and the city has recently announced for 2022 that there will now be two motorised wheelchairs on offer (again free of charge and can be found at Clearwater Beach Lifeguard Tower at 180 S Gulfview Boulevard). These electric buggies have user-friendly touches such as adjustable armrests and seat as well as several safety features like all-terrain tyres and seat belts.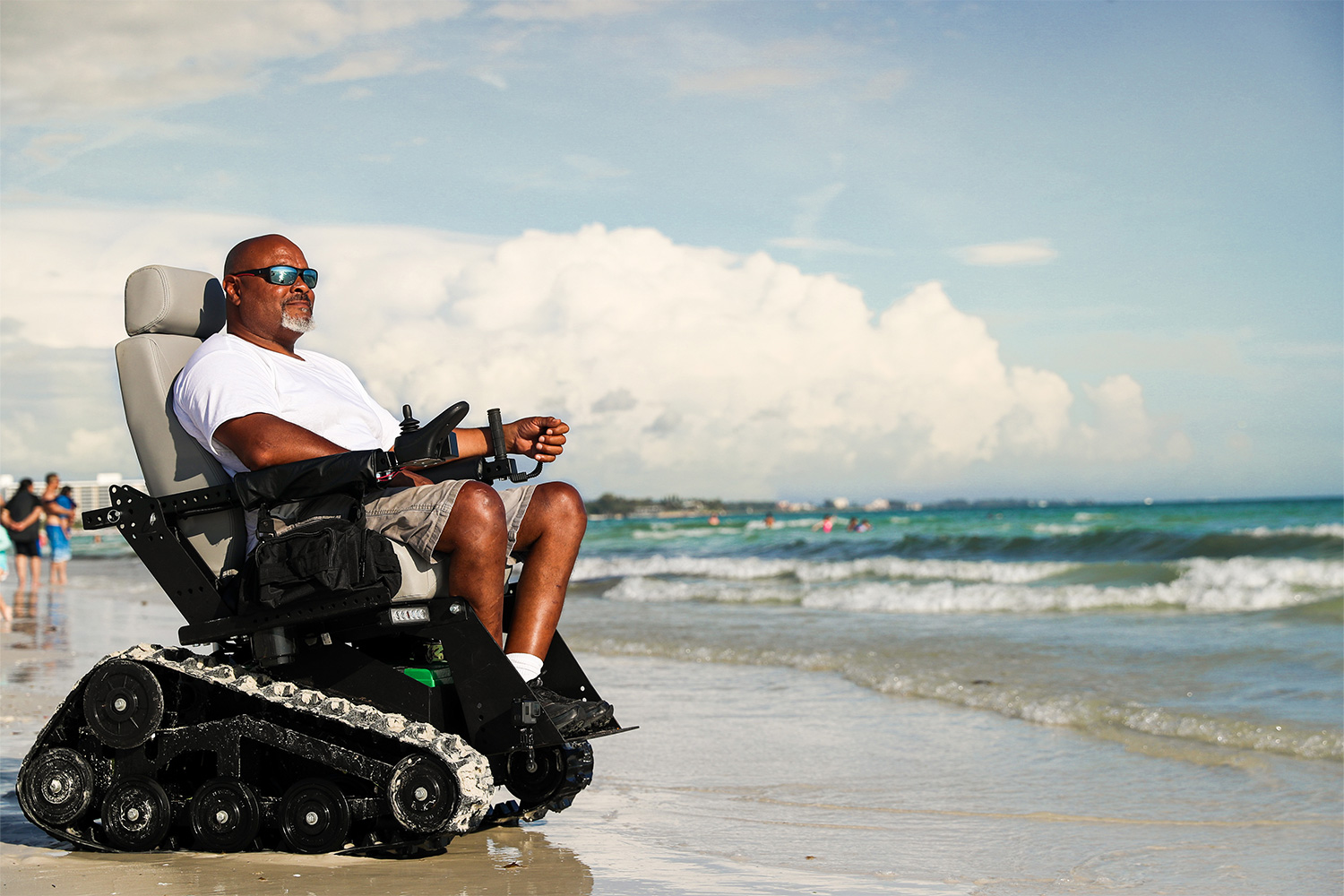 An ever-popular beach with sugar-soft sands, which is located a little over an hour's drive from Orlando, Daytona Beach has excellent facilities for wheelchair users. Its Beach Patrol team are on hand to provide all-terrain wheelchairs at no cost on a first-come, first-served basis. Much of the sands are hard packed, meaning it is possible for you to drive your own wheelchairs and equipment down to the shoreline. And further south, New Smyrna Beach is nestled along the stunning Gold Coast that faces the Atlantic Ocean and enjoys one of the best slices of coastline in the area. It's well known for its laid-back vibe and of course offers free-of-charge wheelchair rental as well as complimentary parking with the relevant handicap badges.
Sitting right in the northwest of the Florida panhandle and close to the Alabama border, Pensacola Beach offers a range of excellent wheelchair-accessible features alongside beach wheelchair rentals (for a fee) including Mobi-mats. These clever pieces of kit are non-slip mats that connect to form a path across the sand all the way down to the water's edge. Wheelchairs can easily roll along them and they also provide a more stable surface for those with walking difficulties who wish to go for a dip in the warm Gulf Coast waters.
If you are headed to the iconic city of Miami for your vacation you will be pleased to know that Miami Beach is a fully-adaptive and accessible beach and even has a dedicated playground for its disabled visitors and residents. There are free rentals of manual and motorised wheelchairs at several locations along the beach, available on a first-come, first-served basis. The manual ones can enter the water up to six inches deep, however the electric ones cannot. Mobi-mats are also placed on the sand to provide an easy, continuous route down to the sea.
A little further north of Miami you will find Haulover Beach, with non-motorised wheelchairs and a deposit scheme like that of Crandon Park. Another notable attribute is that it is Florida's oldest and most well-known nudist spot and regularly features in the world's Top 10 nude beaches – something to 'bare' in mind!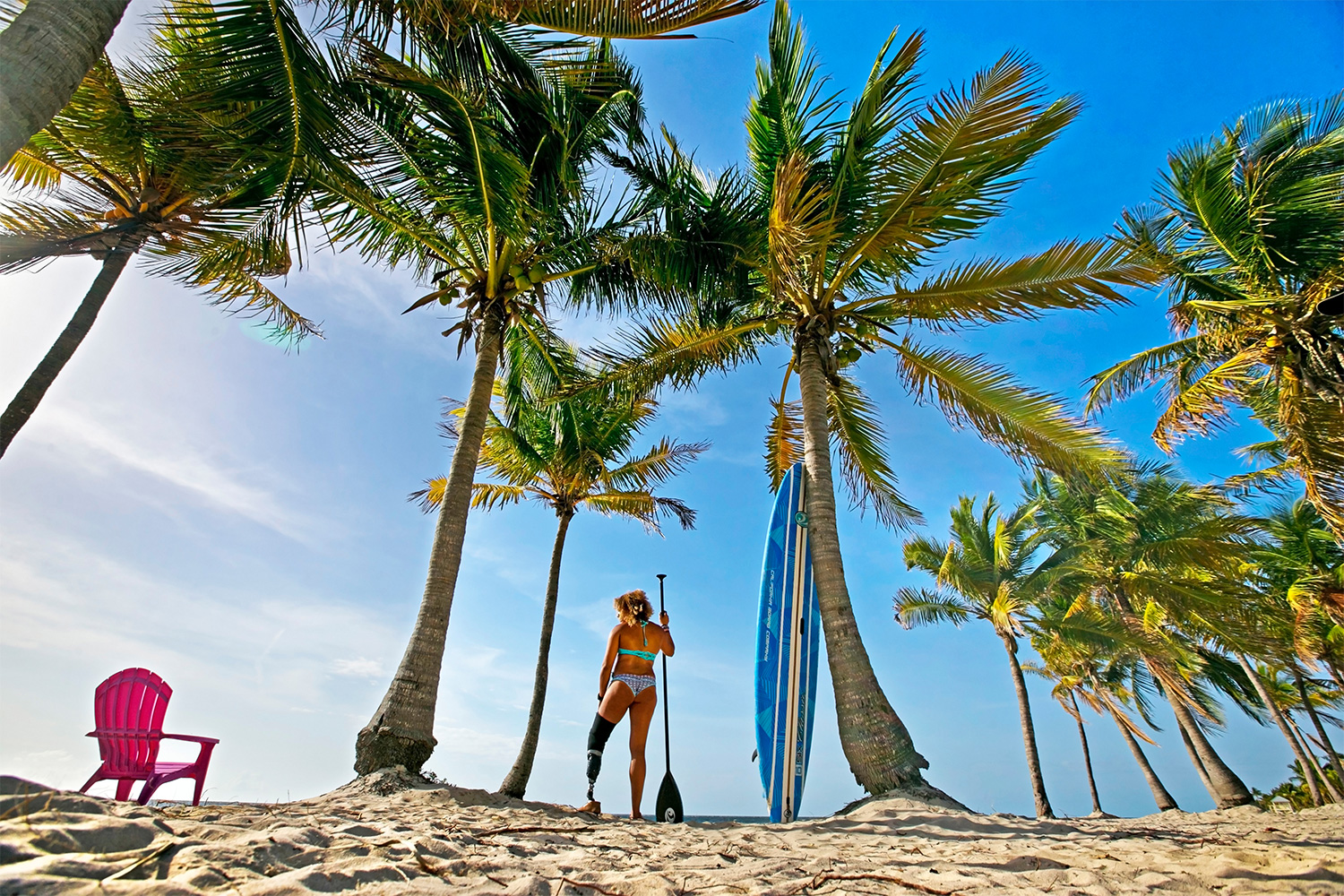 Situated within a gorgeous tropical nature park and reserve on the gorgeous island of Key Biscayne, this welcoming beach offers non-motorised 'balloon-wheel' beach wheelchair rentals for free (although a refundable deposit is required). It is advisable to call ahead and let them know you are coming so they can get the chair ready for your arrival.
A gem along the Gold Coast, the city of Fort Lauderdale is a much-loved and beautiful location that also doubles up as a gateway to the Caribbean thanks to its cruise ship port. Many of its attractions around the area are geared towards accessibility and at the Beach Park there is a beach wheelchair available between 10am – 4pm (call ahead to reserve) as well as accessible showers and restrooms, picnic tables and barbecue grills.
Hollywood Beach, a short drive away, claims to be the first beach in the state to introduce wheelchair beach mats, this gorgeous beach sits about halfway between Miami and Fort Lauderdale so it's a convenient spot for a day out. As well as air-filled beach wheelchairs for rent, there's also a lovely boardwalk edging the beach so it's perfect for cruising. Of course, there are dozens of stunning beaches and parks up and down the state that have the specific facilities needed to make life easier for vacationers with disabilities.
If you are looking for a mobility-friendly holiday, get in touch with our Travel Specialists, who will be more than happy to help you book your dream trip!