How do you like your eggs in the morning?
Florida has some of the best foodie experiences for all tastes, from Disney-themed dining to hiring an expert private chef. So, whether you're heading to Florida for a holiday filled with theme parks, nature, beaches or simple relaxation, you can be sure to find some good food to fuel your adventures! Read our Ultimate Florida Food Experiences Guide to find out where to dine first…

Hire a private chef
Hiring a private chef in Florida is an experience you definitely won't forget. It's easy to hire a private chef for your villa no matter where in the sunshine state you're staying, either using sites such as Take A Chef or through your villa itself. Your private chef can cook for just you (go on, spoil yourself) or for bigger party sizes. Whatever food you're craving, they can cook it, including Italian, Asian, Mediterranean or French and your private chef will deliver haute cuisine right to your table – what more could you want?
Character Dining Experiences
A holiday to Florida wouldn't be complete without a little Disney magic and their vast array of fun dining experiences is a must if you're visiting the parks or travelling with kids.
Storybook Dining with Snow White at Artist's Point
Ideal for young families, this dining experience is themed around Disney's Snow White and the Seven Dwarfs, where you can meet
popular characters such as Dopey, Snow White and the Evil Queen! All of this is located in Disney's Wilderness Lodge within their stunning Enchanted Forest. With a range of tasty themed food such as Brother's Grimm Herb Chicken and Magic Mirror Pork Shank, the entire evening will be a taste sensation that even Grumpy couldn't fault!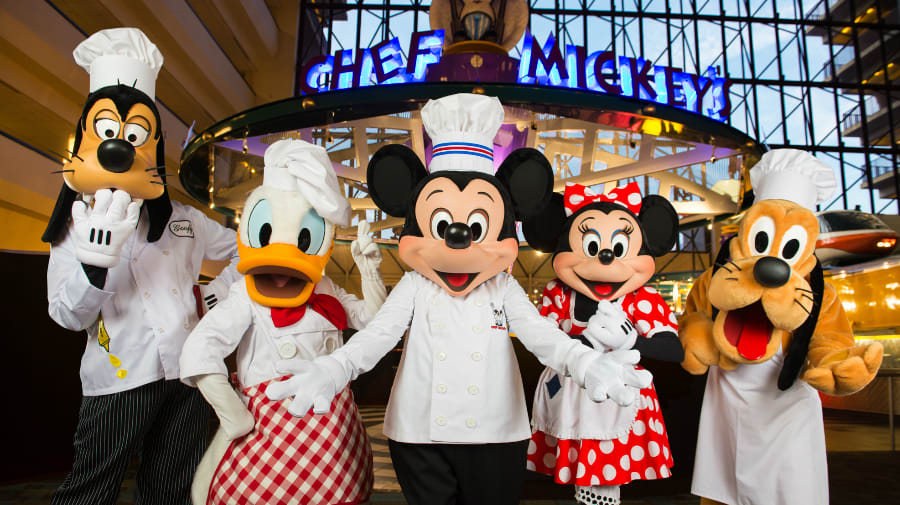 Enjoying a big, tasty breakfast or a lavish dinner at the House of Mouse is a must-do for classic Disney fans. At Chef Mickey's breakfast includes a spread of smoked bacon, beef brisket and Mickey pancakes - while the dinner menu has shrimp salad, prime rib and gnocchi. And If you're lucky, you might even get to meet Mickey and his friends, with an autographed souvenir at the end of the meal.
Garden Grill
Trying to stay healthy while on holiday? Disney's Garden Grill, a family-oriented revolving restaurant, serves farm-fresh food from lunch to dinner. You'll get to try the garden salad, grilled beef and all-natural turkey and vegetables grown in their own Living with the Land greenhouses - no poison apples here! And while you rotate through picturesque countryside, you might even get to meet the locals; Chip and Dale and their woodland friends.
A Cook Your Catch Experience
If you have time to venture out of Orlando, you might want to take advantage of the great fishing along Florida's coastline. And why not push the boat out, when there's a variety of fresh fish restaurants happy to cook up your catch come dinnertime!
After a day of sunshine, grab a cold one and let Lazy Days Oceanfront Dining in Islamorada help you to catch and cook your dinner. Served with soup, salad, fries and veggies, it promises to be one of the freshest meals you'll ever have. And beyond taste, the authentic experience will let you enjoy one of Florida's favourite pastimes.
Afternoon Tea
Florida's afternoon tea experiences are fit for royalty and perfect for spoiling yourself while on holiday. Make like Cinderella and get ready to feast on dainty sandwiches, pastries and a shared pot of tea!
American Girl Afternoon Tea, Florida Mall
A timeless American Girl tradition which any budding princess will love, this afternoon tea is the full experience - including a selection of cute traditional finger sandwiches and assorted sweet treats and pastries. To spoil yourself a little more, there's also a Mother's Day experience where you'll get to bake American Girl cakes - this is Florida at its sweetest!
Great dining experiences don't stop at Orlando, proved by this quaint Victorian experience in South Miami. This beautiful café is decorated with golden mirrors, elegantly made-up table settings and serves a tasty selection of sandwiches, pastries and coffee. And it wouldn't be afternoon tea without being able to live out your Downton Abbey dreams; you can use vintage glassware and cutlery or even wear a Victorian hat.
Frozen Ever After Dessert Party, EPCOT
Don't let the name fool you, the Frozen Ever After Dessert Party will melt your heart. With treats such as Olaf's Smores Cake, Anna's Blue Velvet Cupcakes and Sven's Fresh Fruit & Berries, there is no shortage of wintery Disney themed goodies on offer. Combined with this, you'll get to view Epcot Forever and ride the Frozen Ever After ride without the usual queues. This is far from the only dessert party at the parks but for lovers of Frozen, this is one event you shouldn't let go.

Are your taste buds tingling yet? Discover your foodie adventure in our personalised packages.